Today's readings are Genesis 37, Mark 8, Job 4 and Romans 8.
Jacob and his family are living in Hebron (35:27).  In Genesis 37 Joseph gives a bad report on his brothers (v. 2).  Jacob's favoritism and Joseph's dreams made him more hated by his brothers (37:3-11).
When Joseph's brothers are watching their flocks near Shechem, Joseph is sent to see how they were doing (opportunity for another bad report??).  Joseph found them at Dothan.  Tell Dothan is located in the northern Samaria Hills on the eastern side of the Dothan Valley some 13.6 miles north of Shechem.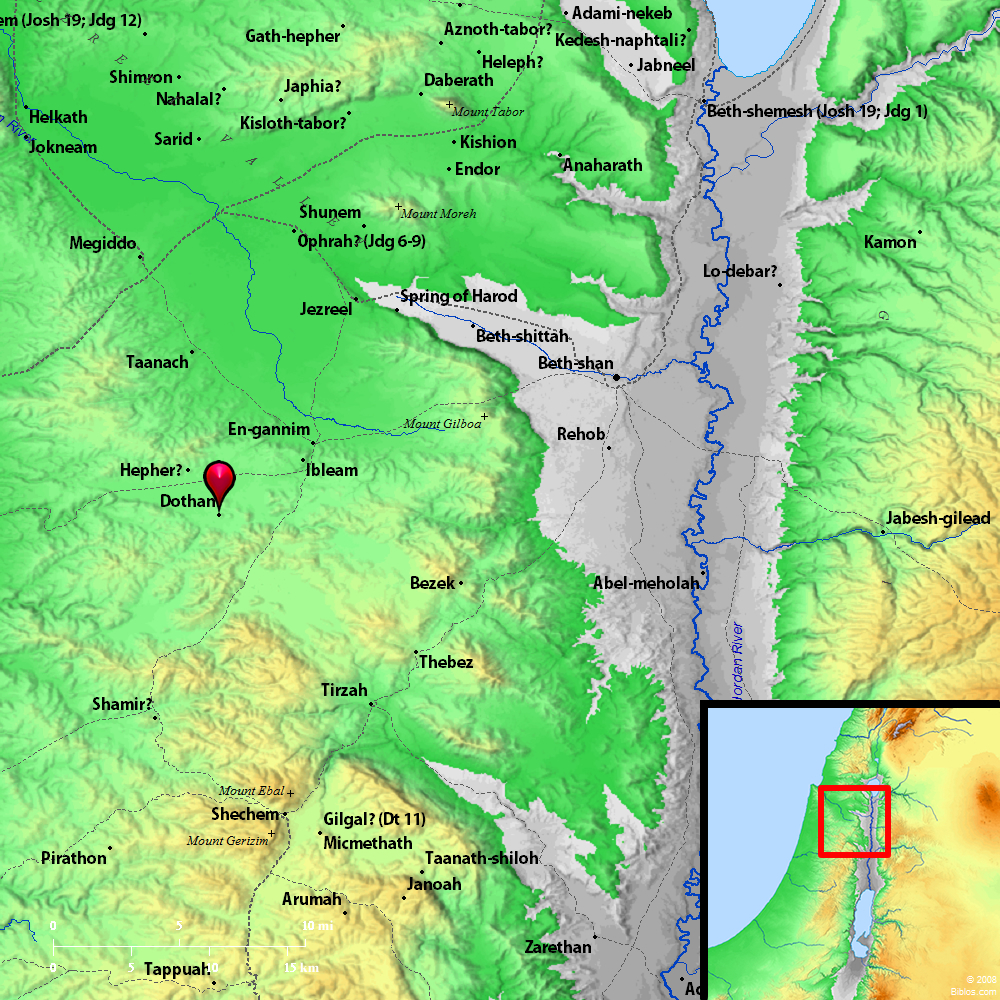 Bible Atlas
A view of the west side of Tel Dotan.  Ferrell Jenkins
They initially conspired to kill Joseph, but threw him in a pit.  Reuben thought he would later return to rescue Joseph, but in the meantime the brothers sold him to some Ishmaelite/Midianite traders on their way to Egypt.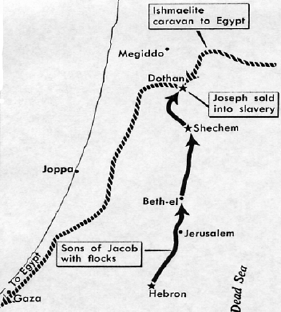 They put some blood on Jacob's garment, returned it to Jacob and said, "This we have found; please identify whether it is your son's robe or not" (v. 32).  And Jacob believed that his son was dead.
Here are five symptoms of a dysfunctional family:
1. Estrangement—Family members who avoid other family members.
2. Anger—It may be expressed or repressed.
3. Lack of Trust—Seen in faulty patterns of communication.
4. Deception—Inability to speak the truth to other family members.
5. Unhealthy Secrecy—Refusal to face the truth.
Do you see all of these in Genesis 37?  But take heart, God can redeem dysfunctional families.
The chapter ends with Joseph in the house of Potiphar, "captain of the guard" and apparently wealthy (he had many slaves).
Didn't Jesus just do this miracle, feeding thousands of people with a small amount of food?  And the disciples still hadn't learn to trust Jesus fully (Mark 8:1-19).
Again he takes them in a boat "to the district of Dalmanutha" (v. 10).  Some believe this is in the same area as Magadan, in the northwest corner of the Sea of Galilee.  There, Jesus is challenged to give a sign, to which Jesus refuses (vv. 11-12).  Then He instructs His disciples to beware of the leaven (bad teaching) of the Pharisees, which they misinterpret (maybe they were hungry) (vv. 13-21).
When they reach Bethsaida, Jesus heals a blind man in two stages (vv. 22-26).  Why?  I believe it was to illustrate that the Jewish people, including the disciples at this point, were not understanding, they didn't yet have spiritual sight and a further work must be done to open their eyes.
Jesus and his disciples continued traveling north (vv. 27-29) from Bethsaida toward Caesarea Philippi, where Herod Philip lived, that stood about 25 miles away.  The disciples confessed their belief that Jesus was Lord near the place where the pagans confessed that Caesar was Lord.  According to Matthew's gospel, Peter's ability to correctly confess that Jesus was the Christ, the Son of the Living God, was because God revealed it to him (Matthew 16
The timing of this question in Jesus" ministry was very important.  The disciples had believed that Jesus was the Messiah from the beginning of their contact with Him (John 1:41, 51).  However their understanding of the Messiah then was the traditional one of their day, namely, that of a political leader.  The multitudes likewise failed to understand that Jesus was much more than that. The religious leaders were becoming increasingly antagonistic.  The disciples were about to receive new revelation regarding Jesus that would have costly implications for them.  Therefore it was necessary for them to confess Jesus' identity clearly and unmistakably now.
Jesus then teaches them about discipleship,  Just as He was destined for the cross, so each of them must "deny himself and take up his cross and follow me" (Mark 8:34).  Be willing to give up your life for greater gain.
Job 4 begins the first cycle of speeches between Job and his friends.  Each cycle consists of speeches by Eliphaz, Bildad, and Zophar, in that order, interspersed with Job's reply to each address.  This pattern continues through the first two cycles of speeches (chs. 4—14 and 15—21) but breaks down in the third when Zophar failed to continue the dialogue.
Throughout the three cycles of speeches, Job's friends did not change their position.  They believed that God rewards the righteous and punishes sinners in this life, the theory of retribution.  They reasoned that all suffering is punishment for sin, and since Job was suffering, he was a sinner.  They believed that what people experience depends on what they have done (cf. John 9:2).  While this is true often, it is not the fundamental reason we experience what we do in life, as the Book of Job proceeds to reveal.
Job 4 is Elphaz's first speech.  Why do bad things happen to good people?  Eliphaz makes three false assumptions:
Good and innocent people never suffer (see v. 7).
Those who suffer are being punished for their sins (v. 8)
Job, because he was suffering, must have done something wrong in God's eyes.  Job must repent (5:8)
Romans 8 is the Mount Everest of this great epistle.  The first part (vv. 1-17) deal with the contrast between the flesh and the Spirit.  It gives the secret for overcoming the struggle presented in Romans 7–the presence of the Holy Spirit in our lives.  The second part (vv. 18-39) deal with the contrast between suffering and glory.  We may suffer significantly now, but we will definitely experience greater glory in heaven, because of that suffering.
Romans 8:1 tells us we are free from the guilt of sin.
Romans 8:2 tells us we are free from the power of sin.
What we could not do for ourselves, God did for us (v. 3) so that now, through union with Christ, all the requirements of the law are fully met in us (v. 4).
Those who live according to the flesh or have the mind of the flesh are unbelievers.
The Spirit indwells us at conversion (Romans 8:9), frees us from the law of sin and death (v. 2), puts life in our bodies (v. 11), mortifies the flesh (v. 13), leads us (v. 14), bears witness with our spirit that we are indeed God's children (v. 16).
Do the math, Paul says next, whatever sufferings we endure now, will be rewarded with glory far beyond compare.  If we put our sun on the suffering side (quite a large and significant object, because our sufferings may be quite difficult to endure), then we must put Canis Majoris on the glory side.  Now, Canis Majoris is so large that if our sun was the size of a golf ball, Canis Majoris would be the size of Mount Everest.  Even from the mountains around Mena, you would be unable to see a golf ball in the valley.
Then Paul says that all creation is up on tiptoes, awaiting that moment when we are revealed in glory (v. 19).  Why?  Because that means it will be renewed (vv. 20-21).  Also, it is the time when we come into our full adoption and receive our resurrection bodies (vv. 22-23).
When Paul says that God works "all things together for our good" (v. 28), it doesn't mean that everything that happens to us is good.  God takes the good things (like reading our Bibles, praying, and fellowship with believers) and the bad things (trials, irritations, even temptations) and works them all together for good.  The "good" that God is working toward, according to v. 29, is that we become more like Jesus Christ.  That is the process that God has guaranteed, from predestination to glorification (v. 30).
Paul ends the chapter asking (and answering) four questions:
Is God for me?  Of course, He already has done the hardest thing (not sparing His one and only beloved Son), so He is committing to "graciously give us all things," which I think in the context is "all things" that contribute to us becoming more like Jesus.
"Who shall bring any charge against God's elect?" v. 33  Some of them would be charged with treason (worshiping Jesus instead of Caesar) or cannibalism (eating the body and blood of Jesus), but it is "God who justifies."  The highest judge in all the universe says, "Not guilty!  You are righteous."
"Who is to condemn?" (v. 34)  This goes a step beyond charging with a crime.  This is sentencing.  Now, Satan is our accuser, but cannot condemn (see v. 1).  Instead, we have Jesus praying for us.  He is our intercessor, our advocate (1 John 2).  Like He prayed for Peter, that his "faith would not fail," He prays for us.
Finally " Who shall separate us from the love of Christ?" (v. 35)  Paul lists several things that maybe they thought proved that Christ didn't love them–"tribulation, or distress, or persecution, or famine, or nakedness, or danger, or sword" but even though they really experienced these things (v. 36) we turn out to be super-conquerors (v. 37) because there is absolutely nothing that can separate us from the love of Christ! (vv. 38-39)