Today's Bible readings are from Exodus 38, John 17, Proverbs 14 and Philippians 1.
Exodus 38 presents the construction of the altar (38:1-7) and laver (38:8), then the courtyard (38:9-20).  The rings and poles (38:5-7) made the tabernacle portable.  They were not supposed to stay in the Sinai desert, but move to the land God had promised to Abraham.
The materials to build the tabernacle included slightly over a ton of gold (v. 24), almost four tons of silver (vv. 25-28), and about two and a half tons of bronze (vv. 29-31)!
Some wonder where Israel got all these resources out in the middle of the desert.  But Exodus 12:36 reminds us that the children of Israel left Egypt with great resources because they had plundered the Egyptians, who willingly gave Israel what amounted to back wages for their years of slavery. (David Guzik)
John 17 is the high priestly prayer of Jesus.  This is more "the Lord's prayer" than the one Jesus taught His disciples to pray.  Jesus begins by praying for himself (17:1-5), asking the Father to glorify Him now in death and resurrection as He had shared the Father's glory in eternity past.  Then He prays for His disciples (17:6-19), who had been given to Christ by the Father and He now asks the Father to keep them and sanctify them.  Finally, the prayer telescopes out to all others who would believe on Jesus through their message (17:20-27).  He prays for their unity and that they would be marked with glory.
From this prayer Jesus was to go straight out to the betrayal, the trial, and the Cross. He was not to speak to his disciples again. It is a wonderful and a precious thing to remember that before those terrible hours his last words were not of despair but of glory.
–William Barclay
Edwin Blum notes:
"Jesus prayed for His disciples before He chose them (Luke 6:12), during His ministry (John 6:15), at the end of His ministry (Luke 22:32), here (John 17:6-19), and later in heaven (Rom. 8:34; Heb. 7:25)." (Edwin Blum, "John" in The Bible Knowledge Commentary, p. 331)
J. Vernon Mcgee summarized what this prayer says about believers and the world: (1) they are given to Christ out of the world (v. 6), (2) left in the world (v. 11), (3) not of the world (v. 14), (4) hated by the world (v. 14), (5) kept from the evil one (v. 15), (6) sent into the world (v. 18), and (7) manifested in unity before the world (v. 23)
Proverbs 14 is another chapter of wisdom maxims. The following notes are from the ESV Study Bible…
Verses 5-7 refer to character manifested, in part, through speech: the faithful vs. false witness (v. 5), the scoffer (v. 6), the lack of words of knowledge from a fool (v. 7), and the implication that such words can be found with a man of understanding (v. 6).
Verses 8-15 is framed by verses that contrast the approach of the prudent (vv. 8a, 15b) with that of fools (v. 8b) and the simple (v. 15a).  It is prudent to recognize that appearances can be deceptive (a person's exterior vs. the state of the heart, vv. 10, 13; the solidity of the house vs. the tent, v. 11; and a way that seems right, v. 12) and that whatever the appearance, the path of one's life has consequences consistent with how it is walked.
The wise gives thought to his path and turns away from evil (cf. ESV footnote on cautious with the use of this phrase in 3:7; 16:6). In contrast, the fool is reckless on his path (14:16b), a quality of heart that is aggravated further by a quick temper and results in his being hated (v. 17) for its ruinous effects.
The apostle Paul wrote this letter to the Christians in Philippi, probably from Rome c. A.D. 62, while he was under house arrest.
Philippi was a wealthy town, thanks to nearby gold and silver mines and a large number of (retired military) Roman citizens.  The church in Philippi was founded by Paul some eleven years before this letter, on his second missionary journey (Acts 16:11-40).  This was the first church established on the continent of Europe.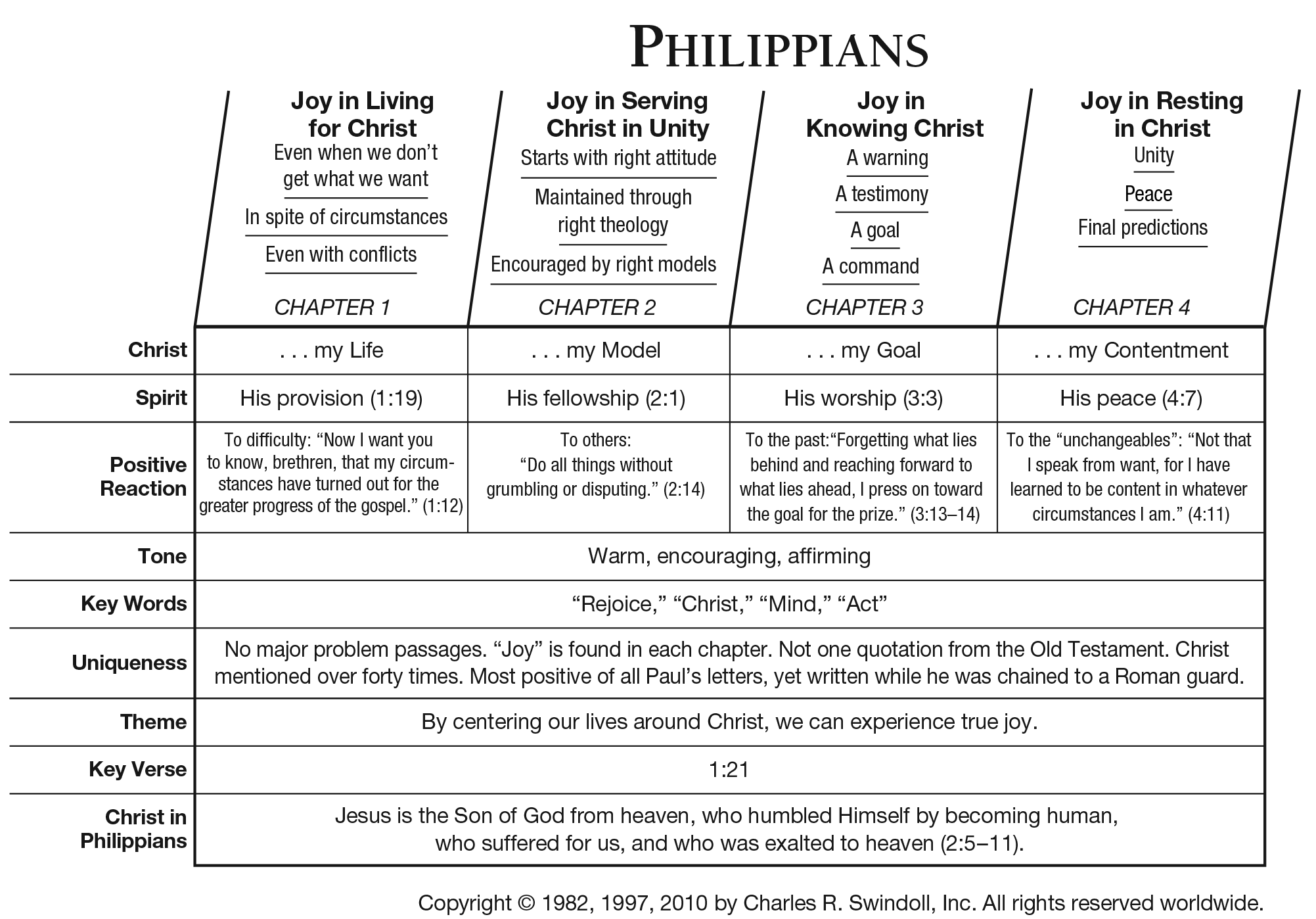 Philippians 1 consists of Paul speaking to the Philippians about their partnership in the gospel (their part primarily, but not wholly, through giving, vv. 3-11).  Then he lets them know that his difficult circumstances were working out for the advance of the gospel (vv. 12-17) and his confidence that, whether he lived or died, Christ would be glorified (vv. 18-26).  Then he encourages them to stand firm and be confident (vv. 27-30).
Since Paul was in prison awaiting trial, he had to face the fact that it was quite uncertain whether he would live or die; and to him it made no difference.
"Living," he says, in his great phrase, "is Christ to me."  For Paul, Christ had been the beginning of life, for on that day on the Damascus road it was as if he had begun life all over again. Christ had been the continuing of life; there had never been a day when Paul had not lived in his presence, and in the frightening moments Christ had been there to bid him be of good cheer (Acts 18:9-10).  Christ was the end of life, for it was towards his eternal presence that life ever led.  Christ was the inspiration of life; he was the dynamic of life.  To Paul, Christ had given the task of life, for it was he who had made him an apostle and sent him out as the evangelist of the Gentiles.  To him Christ had given the strength for life, for it was Christ's all-sufficient grace that was made perfect in Paul's weakness.  For him Christ was the reward of life, for to Paul the only worthwhile reward was closer fellowship with his Lord.  If Christ were to be taken out of life, for Paul there would be nothing left.
"For me," said Paul, "death is gain".  Death was entrance into Christ's nearer presence.  There are passages in which Paul seems to regard death as a sleep, from which all men at some future general resurrection shall be wakened (1 Corinthians 16:51-52; 1 Thessalonians 4:14 and 16); but at the moment when its breath was on him Paul thought of death not as a falling asleep but as an immediate entry into the presence of his Lord.  If we believe in Jesus Christ, death for us is union and reunion, union with him and reunion with those whom we have loved and lost awhile.
The result was that Paul was swayed between two desires. "I am caught," he says, "between two desires."  As the Revised Standard Version has it: "I am hard pressed between the two."
–William Barclay
My father's favorite verse throughout most of his life was Romans 8:28, but toward the end of his life he claimed Philippians 1:21, "for me to live is Christ, to die is gain." When we live much for Christ, we have much gain. When we live little for Christ, we have little gain. When we live not for Christ at all, we have no gain, but loss. Listen to the words of John Eadie:
"Christ, says the Apostle, shall be magnified in my body by life, 'for to me to live is Christ.' Christ and life were one and the same thing to him.
Might not the sentiment be thus expanded? For me to live is Christ:
—the preaching of Christ the business of my life
—the presence of Christ the cheer of my life
—the image of Christ the crown of my life
—the Spirit of Christ the life of my life
—the love of Christ the power of my life
—the will of Christ the law of my life
—and the glory of Christ the end of my life.
Christ was the absorbing element of his life. If he travelled, it was on Christ's errand; if he suffered, it was in Christ's service. When he spoke, his theme was Christ; and when he wrote, Christ filled his letters…
And when did the Apostle utter this sentiment? It was not as he rose from the earth, dazzled into blindness by the Redeemer's glory, and the words of the first commission were ringing in his ears.
It was not in Damascus, while, as the scales fell from his sight, he recognized the Lord's goodness and power, and his baptism proclaimed his formal admission to the church.
Nor was it in Arabia, where supernatural wisdom so fully unfolded to him the facts and truths which he was uniformly to proclaim. It sprang not from any momentary elation as at Cyprus, where he confounded the sorcerer, and converted the Roman proconsul.
No, the resolution was written at Rome in bonds, and after years of unparalleled toil and suffering. His past career had been signalized by stripes, imprisonment, deaths, shipwreck, and unnumbered perils, but he did not regret them.
He had been 'in weariness and painfulness, in watchings often, in hunger and thirst, in fastings often, in cold and nakedness,' but his ardour was unchilled; and let him only be freed, and his life prolonged, and his motto still would be—'For me to live is Christ.'
It did not repent the venerable confessor now, when he was old, infirm, and a prisoner, with a terrible doom suspended over him, that he had done so much, travelled so much, spoken so much, and suffered so much for Christ.
Nor was the statement like a suspicious vow in a scene of danger, which is too often wrung from cowardice, and held up as a bribe to the Great Preserver, but forgotten when the crisis passes, and he who made it laughs at his own timidity.
No. It was no new course the Apostle proposed—it was only a continuation of those previous habits which his bondage had for a season interrupted. Could there be increase to a zeal that had never flagged, or could those labours be multiplied which had filled every moment and called out every energy?
In fine, the saying was no idle boast, like that of Peter at the Last Supper—the flash of a sudden enthusiasm so soon to be drowned in tears. For the apostle had the warrant of a long career to justify his assertion, and who can doubt that he would have verified it, and nobly shown that still, as hitherto, for him to live was Christ?
He sighed not under the burden, as if age needed repose; or sank into self-complacency, as if he had done enough, for the Lord's commission was still upon him, and the wants of the world were so numerous and pressing, as to claim his last word, and urge his last step.
It was such an one as Paul the aged, and now also a prisoner of Jesus Christ, who placed on record the memorable clause, inscribed also on his heart—'for me to live is Christ.'"
–John Eadie, A Commentary on the Greek Text of the Epistle of Paul to the Philippians (ed. W. Young; Second Edition.; Edinburgh: T&T Clark, 1884), 51–51-52.
May you and I live much for Christ today. May He be our life, our joy, our treasure and greatest pleasure.