Today's readings are from Exodus 33, John 12, Proverbs 9 and Ephesians 2.
Exodus 33 consists of the people's repentance (vv. 1-11); Moses' intercession (vv. 12-16) and God's agreement to go with Israel and reveal His glory to Moses (vv. 17-23).
Moses has just been informed that God would send Israel to Canaan with the promise of safe passage, with the Lord's angel going before them, but without YHWH in their midst (Exodus 33:1-3).  Israel was overwhelmed with grief by this news (33:4-6).  God's dwelling in their midst was what made them distinct, and now because of their stiff-necked sin, God was pulling back.
Are you disturbed at the prospect, however remote, that God's presence might be withdrawn from your life because of your sin?
This separation is confirmed in 33:7-11, when Moses describes the kind of distant access Israel would be subjected to, now that the tabernacle plans had been destroyed (Exod 32:19).
When Moses intercedes, he prays for God's presence, which is the most important thing (as we will see again in Numbers 13).  He prays according to God's promises.  This is always important, that we link our prayers not to our merits or even our needs, but to God's promises.  Moses also prays to learn more about God.
13 Now therefore, if I have found favor in your sight, please show me now your ways, that I may know you in order to find favor in your sight. Consider too that this nation is your people."
Moses won a "yes" answer from God when he asked for the special presence of God to remain with Israel on the way to the Promised Land (Exodus 33:12-17).  He also won a confirmation of the promise from God and an affirmation of close relationship.  Yet he was still not satisfied. He wanted more in his personal relationship with God. (David Guzik)
This hunger for more is the true mark of revival.
A. W. Tozer, in his book The Pursuit of God has this prayer:
O God, I have tasted Your goodness, and it has both satisfied me and made me thirsty for more.  I am painfully conscious of my need of further grace.  I am ashamed of my lack of desire.  O God, the Triune God, I want to want You; I long to be filled with longing; I thirst to be made more thirsty still.  Show me Your glory, I pray, so I may know You indeed.  Begin in mercy a new work of love within me…  Give me grace to rise and follow You up from this misty lowland where I have wandered so long. In Jesus' name.  Amen.
When Moses asks to see God's glory (v. 18), God tells Moses that he will make His goodness pass before Moses (v. 19), but he cannot see God's face or else die (v. 20).  Moses was placed in the cleft of the rock (v. 21) and saw Yahweh's backside (v. 23).
Paul, in Philippians 3, wanted to be "found in Christ," for that is the only place where we find protection from the wrath of God against our sins.
John 12 begins with Mary anointing Jesus' feet with costly perfume and wiping them with her hair.
Love's extravagance!
Let's look at each part:
"Costly perfume" — According to the Archaeological Study Bible, one pint of nard would have cost about a year's wage for a day-laborer.  Cheaper by far is one of the most expensive perfumes in the world today — Joy, by Jean Patou.  Henri Alméras designed and brewed the perfume in 1929.  He mixed jasmine odor and rose in the perfume.  Each 30 ml perfume in the bottle includes the extraction of 10,000 jasmine flowers combined with 28 dozen roses. It sells for only (!) $800 per ounce.
"anointed Jesus' feet" — This was unusual.  Usually the head was anointed.
"wiped them with her hair" — This is almost scandalous.  A proper woman would not show her hair in a public setting.
Of course, Judas objected.  He began by stealing from the "common purse" and ultimately betrayed Jesus for thirty pieces of silver.
Every time we see Mary, she is down at Jesus' feet (Luke 10:38-42 learning; John 11, praying; John 12 worshiping).  Barclay mentions three significant things communicated by Mary's worship–it was extravagant; it was humble; it was unself-conscious.
John 12:12-36 is John's record of the triumphal entry.  Jesus rode in on a donkey, a symbol of peace, when he could have ridden in on a horse, symbolizing war.
John is the only gospel writer to tell us that Greeks sought out Jesus.  They wanted to see Jesus.
"We would see Jesus."  What a wonderful thought for pastors as they step into their pulpits.  And what a wonderful thought for each of us as we live our lives in front of our families, our neighbors, our co-workers.
Philip and Andrew presented them to Jesus.  His first response is that "the hour has come for the Son of Man to be glorified."  Apparently this appearance of Gentiles before this Jewish Messiah was the tipping point.  Up until now it had not been his hear (John 2:4; 7:6, 30; 8:20).
Then Jesus said…
24 Truly, truly, I say to you, unless a grain of wheat falls into the earth and dies, it remains alone; but if it dies, it bears much fruit. 25 Whoever loves his life loses it, and whoever hates his life in this world will keep it for eternal life.
In order to bear spiritual fruit, we must die.  We cannot protect our life and experience growth in our life.  We must "hate" our life by putting ourselves at risk.
This chapter ends by showing the unbelief of the people (John 12:37-50).  So many signs had been performed, but they did not believe, so Jesus pronounces the Isaiah "curse" on them, which merely explains why they did not believe.
Part of the reason for their unbelief was the fear of man, that they would be unpopular if they did believe in Jesus (12:42-44).
David Guzik then summarizes the last verses:
These are the last words in John's gospel from Jesus to the public.  In this last speech to the multitude, Jesus emphasized the themes of all His previous preaching in John.
He who sees Me sees Him who sent Me: Jesus stressed His unity with God the Father.
I have come as light into the world: Jesus stressed His own truthfulness, and the need man has to follow Jesus.
I do not judge Him: Jesus stressed His love and acceptance for the sinner; yet the word that I have spoken will judge Him — there are inescapable consequences for rejecting Jesus.
I have not spoken on My own authority: Jesus stressed His own submission to God the Father. His authority flowed from His submission to God the Father.
Proverbs 9
Proverbs 9 contrasts wisdom and folly in a very symmetrical structure.  Verses 1-6 correspond to verses 13-18 remarkably.  This chiastic form of presentation sets off the central verses (vv. 7-12) as the most important in the chapter.  Both Wisdom and Folly invite the youth to seek them.
The purpose of the similarity is to highlight the differences, which present Lady Wisdom as clearly desirable in all respects.  The description of Lady Wisdom is given more space (12 out of 18 verses), contains a summary of her teaching (vv. 6-10), and has her narrating the consequences of her way (vv. 11-12).  Notice her preparation in vv. 1-2.  She offers her own preparations (reality), whereas folly offers stolen goods (v. 17, illusion).
The description of Lady Folly, by contrast, while emphasizing the emptiness of her character (v. 13), lacks any of her crooked instruction (i.e., nothing follows the address and appeal in vv. 16-17), and has her end narrated about her rather than by her (v. 18).  (ESV Study Bible)
Unlike gracious Wisdom, who sends out her servants with invitations (v. 3), pompous Folly sits there like the queen of the town and expects us to be impressed (v. 14). She does have an undeniable appeal: "Stolen water is sweet" (v.17).  Our foolish hearts relish sin as exciting and glamorous.  But the truth is this: folly's menu is water and bread (v. 17), sweetened only by "the fleeting pleasures of sin" (Heb. 11:25), while Wisdom's feast is wine and meat (v. 2), leading to eternal life (v. 6).  (ESV Gospel Transformation Student Bible)
These two rival invitations bring this section of Proverbs to a climax.  The youth (reader) must now make a decision: Which one will he or she follow?
Wisdom has a starting place–the fear of the Lord.  G. Campbell Morgan wrote:
"We are ever beginning; every morning we start afresh; every task we take up is a new start; every venture in joy or in effort, must have its commencement.  Then let every beginning be in the fear of Jehovah.  That is Wisdom, and it leads in the way of Wisdom."
And…
"In every city, on every street, by every door of opportunity, these two voices of wisdom and folly are appealing to men.  To obey the call of wisdom is to live.  To yield to the clamor of folly is to die.  How shall we discern between the voices?  By making the fear of Jehovah the central inspiration of life.  By yielding the being at its deepest to Him for correction and guidance."
Ephesians 2 begins with the bad news (2:1-3)–before God's grace presented Christ to us and enabled faith in us, we were dead (v. 1), disobedient (v. 2), depraved (v. 3) and doomed (v. 3).  BUT GOD–the most beautiful words on earth!
But God reversed all that…the good news is that now we made alive (v. 5a), seated in the heavenlies (v. 6) and will experience "immeasurable riches of his grace in kindness" throughout eternity (v. 7).
According to vv. 8-9 the basis of our salvation is God's "grace" (unmerited favor and divine enablement; cf. Rom. 3:22, 25; Gal. 2:16; 1 Pet. 1:5).  The instrument by which we receive salvation is "faith" (i.e., trust in Christ).  Faith is not an act or work that earns merit with God, which He rewards with salvation.
What is the gift of God?  What does "that" or "this" refer back to?  Gift if neuter, but "grace" and "faith" are both feminine.  Probably it refers to the whole preceding clause that describes salvation (cf. 1:15; 3:1).
E. K. Simpson says…
"If we breathe, it is because life has been breathed into us; if we exercise the hearing of faith it is because our ears have been unstopped.  We are born from above.  Spiritual life is not of the nature of a subsidy supplementing dogged exertion or ruthless self-flagellation, but a largess from the overflowing well-spring of divine compassion, lavished on a set of spiritual incapables."
Another truth to remember is that because we have not been saved by our good works, neither can we be lost by our bad works.
Verse 10 gives another reason salvation is not from man or by works.  Rather than salvation being a masterpiece that we have produced, regenerated believers are a masterpiece that God has produced.
"Good works" are not the roots from which salvation grows, but the fruit that God intends it to bear.  God has not saved us because of our works (vv. 8-9), but He has saved us to do good works (v. 10).  God saves us by faith for good works.  Good works are what God intended for us to practice, with His divine enablement.  He intended that we "would walk in them," as a pedestrian walks along a path, even before He saved us (cf. 1:4).  This verse reveals that God is ultimately responsible for our good works (cf. Rom. 9:23; Phil. 2:13). (Thomas Constable)
I've quoted G. Campbell Morgan twice already today.  Here is another quote that expands on Ephesians 2:10…
"God has foreordained the works to which He has called you.  He has been ahead of you preparing the place to which you are coming and manipulating all the resources of the universe in order that the work you do may be a part of His whole great and gracious work." (AZ Quotes)
Doesn't that make you want to say "Yes" to all God has for you?
The remainder of Ephesians 2 shows that salvation is not merely about individual regeneration.  It is also about corporate reconciliation.  We are brought into a relationship not only with God, but with other believers.
Of course, the great dividing wall in the first century Mediterranean world was between Jews and Gentiles.  Of course, we talking about Gentile believers here.  However, the Jews were very ethnocentric (or racist).  It took a lot of convincing (Acts 10-11, 15) for Jewish Christians to believe that even Gentiles, if they believed, could be considered part of the same body, the body of Christ.
So Paul talks about the reality of that union of all believers, no matter what race, in Christ (vv. 11-13), then explained exactly what that involves (vv. 14-18) and ends with the consequences (vv. 19-22).
Prior to the cross, Gentiles were "separated from Christ, alienated from the commonwealth of Israel and strangers to the covenants of promise, having no hope and without God in the world" (2:12).
BUT NOW another wonderful intervention of God has occurred–"in Christ Jesus you who once were far off have been brought near by the blood of Christ" (2:13).  Everything that once divided them had been abolished.
The "dividing wall" had been brought down just like the Berlin Wall in 1989.  The "dividing wall" (soreg) was the low-standing wall in the temple area that barred the Gentiles from getting too close to the temple.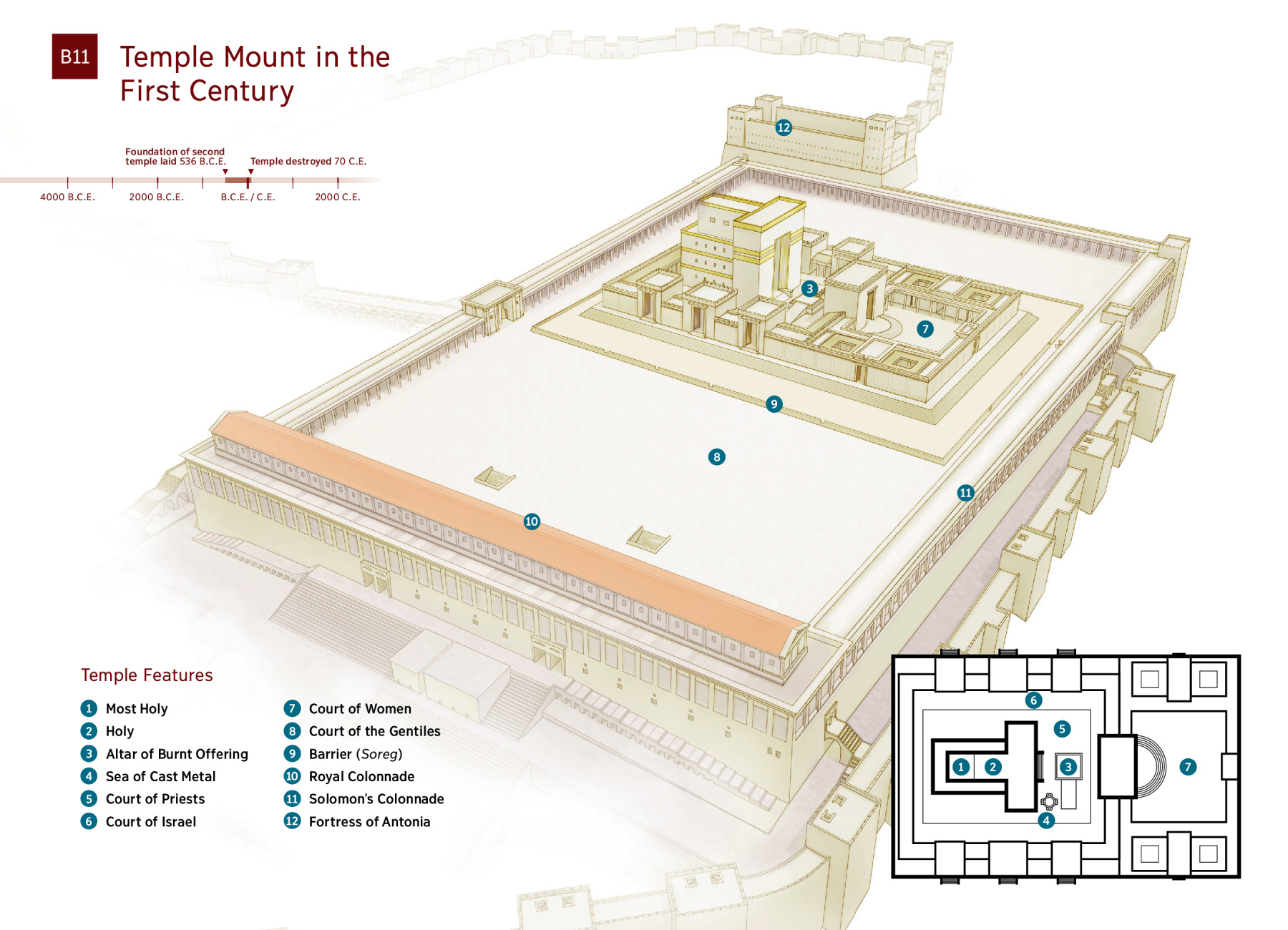 This is the best image I could find of the temple mount.  It is from JW.org
During excavations of Jerusalem in 1871, two archaeologists, Clermont and Ganneau, discovered what is known as the Soreg Inscription. Written in Greek, the sign warns non-Jews to keep out of the temple area. It states:
"No foreigner is to enter the barriers surrounding the sanctuary. He who is caught will have himself to blame for his death which will follow."
On the cross, Christ put to death the hostility between Israel and the other nations.
Thomas Constable writes:
Jesus Christ had two purposes in ending Jewish Gentile hostility.  First, He wanted to "create" one new man, the church (v. 6), out of the two former groups, Jews and Gentiles (v. 11).  Here the "new man" is not the individual believer but the church, the body of Christ (cf. 1:22-23; 1 Cor. 12:12-13; Col. 3:10-11; Heb. 12:23).  In the church, God does not deal with Gentiles as He did with Jews, nor does He deal with Jews as He did Gentiles.  Jews do not become Gentiles, nor do Gentiles become Jews.  Rather, God has created a whole new (Gr. kainon, fresh) entity: the church.
Jesus Christ's second purpose for ending Jewish Gentile hostility was to bring ("reconcile") Jewish and Gentile believers to Himself in "one body": the church.  The Old Testament never spoke of Jewish and Gentile believers as being in "one body."  Ironically, the Cross in one sense terminated Jesus, but Jesus terminated the enmity between Jews and Gentiles "with (through) the Cross."  Not only have Jews and Gentiles experienced reconciliation with one another (vv. 14-15), but they have also experienced reconciliation with God by the Cross (v. 16).  The Cross satisfied God's justice; it propitiated Him (cf. 1 John 2:2).
God's plan for believers included the building of a new entity after Jesus Christ's death, resurrection, and ascension (cf. Matt. 16:18).  It was to be the church.  The church is not just a continuation and modernization of Israel under a new name but a new creation (v. 15).  In the church, Jewish and Gentile believers stand with equal rights and privileges before God.  Membership in this new body is one of the great blessings of believers in the present age, along with individual blessings (vv. 1-10).  Paul glorified God for that blessing in this section of Ephesians.
John Stott enjoins us:
"I wonder if anything is more urgent today, for the honour of Christ and for the spread of the gospel, than that the church should be, and should be seen to be, what by God's purpose and Christ's achievement it already is—a single new humanity, a model of human community, a family of reconciled brothers and sisters who love their Father and love each other, the evident dwelling place of God by his Spirit.  Only then will the world believe in Christ as Peacemaker.  Only then will God receive the glory due to his name.