Today we're starting a new series of message on the book of Philippians.  The tone throughout the book is one of joy.
Joy is a central theme in the book of Philippians (even if not the primary theme). There are 15 explicit references to some form of either the noun "joy" (chara in Greek) or the verb "rejoice" (chairo) in this short letter.
Paul prays for the Philippian believers with joy (chara) because of their partnership with him in the gospel. (1:4-5)

He rejoices (chairo) that Christ is proclaimed – even when Christ is proclaimed with impure motives. (1:18)

He rejoices (chairo) that his current hardship will turn out for his deliverance, through the prayers of the believers and the help of the Spirit. (1:18-1:19)

Paul is convinced that the continuation of his ministry to the Philippians will contribute to their "progress and joy (chara) in the faith". (1:25)

Paul has joy (chara) when the believers are unified and single-minded. (2:2)

Paul would be glad (chairo) in his sacrifice for the sake of their faith, so that his ministry was not in vain. (2:17)

Paul would rejoice with (synchairo) the believers in his sacrifice for the sake of their faith, so that his ministry was not in vain (2:17)

Paul encourages the Philippian believers to also be glad (chairete) in his life being poured out for them. (2:18)

Paul encourages the Philippian believers to also rejoice with (synchairete) him in his life being poured out for them. (2:18)

Paul is eager to send Epaphroditus back to them, so that they can rejoice (chairo) in seeing him again and be less anxious about his health. (2:28)

Paul encourages the Philippian church to receive Epaphroditus back with joy (chara), since he risked his life for the work of Christ. (2:29)

Paul has no problem with frequently repeating the reminder to "rejoice (chairo) in the Lord," because he knows how important it is. (3:1)

Paul encourages the Philippians to "rejoice (chairo) in the Lord always." (4:4)

For added emphasis, Paul again commands the Philippian believers to rejoice (chairo). (4:4)

The Philippians' renewed ability to support his ministry caused Paul to rejoice (chairo) in the Lord greatly. (4:10)
I think we can rightly say that Paul himself was an apostle of joy.  I teach my congregation at Grace Bible Church that joy comes from thanking God for His grace.  You see, in the Greek language, all three words—joy, give thanks and grace—come from a common Greek word root—Char.  "Joy" is Chara, "give thanks" is eucharisteo and "grace" is charis.  I believe that God, and Paul, intentionally links these words together to show us a key spiritual truth—whenever we need more joy, we need to concentrate on identifying God's gracious dealings with us and then intentionally and verbally give thanks for them.
Paul's joy is not at all dependent on his circumstances.  Although he has been imprisoned for almost four years (1:12-18), he still rejoices (1:18).  Even were he to be sentenced to death for his ministry, still he would rejoice (2:17, 18).  Paul had learned to be content in whatever his present condition (4:11).
Paul's joy was related to his calling and his personal experience of the free gift of God's grace.  He referred to "my grace" (1:7).  The grace he had been given was the reason he could rejoice in spite of his chains.  He had an enormous passion for preaching the grace given through Christ (1:12-18).  His joy came from knowing the name of Jesus was getting the attention it deserved.  That's what mattered most to Paul.  When our joy lies in actually fulfilling our calling, the criticisms and persecutions of the world won't make much difference.
Paul's joy was also in people.  His life and sense of well being were always tied to the success in the faith of those he ministered to.  He calls the Philippians "my joy and crown" and exhorts them to stand fast (4:1).  He urges the church to "complete my joy" (2:2).  He describes in detail how they can do that (1:27—2:18).  If they will accomplish it, he says, he will be able to rejoice that his labors with them have not been in vain (2:16).  Self-centered people don't have that kind of feeling for others.  Neither do they have much joy.  The joy of Paul and the Philippians was related to the bond that joined them (2:17, 18).  We don't pay enough attention to that bond these days.  There should be great joy in our oneness, our fellowship, our common bond in Christ.
Finally, Paul's joy was primarily related to Christ.  Paul said, "We . . . glory in Christ Jesus and put no confidence in the flesh" (3:3).  That is the explanation of everything else Paul has said.  Paul wanted the Philippians to know bad circumstances do not rob him of joy because his joy is in Christ.  Paul's joy was in preaching Jesus Christ and in the fellowship of the followers of Christ.  It is Christ that was Paul's joy, confidence and righteousness.  Paul knew that nothing matters but knowing Him (3:3-14).  We can know that when the Lord Himself is our joy (cf. Psalm 73:25) nothing can take it away.  Along with Paul we can say, "Rejoice in the Lord always; again I will say, Rejoice." (4:4).
Unlike other people, who can let us down and sometimes stifle our joy, Jesus Christ is a rock who never changes.
Paul was born in the city of Tarsus, in Cilicia (Acts 21:39; 22:3).  He was a Jew from the tribe of Benjamin (2 Cor. 11:22; Phil. 3:5), originally named "Saul" but became known as "Paul," an apostle to the Gentiles.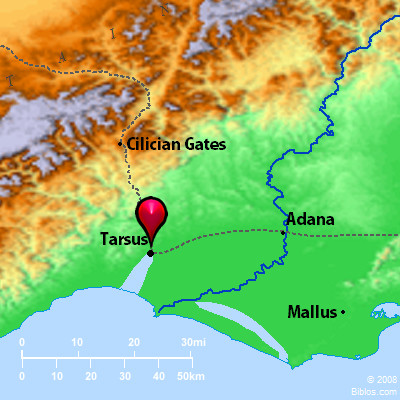 Paul was brought up as a strict Pharisee (Acts 23:6), the protégé of Gamaliel (Acts 5:24; 22:4).  He excelled as a Pharisee (Acts 22:4; Phil. 3:5) and became a persecutor of the early Christians (Acts 7:58; 8:3-22; 26:9-11).  He had also learned the trade of tent stitching (Acts 18:3-20; 1 Cor. 4:12).
from Paul Miller's Casual English Bible, Acts
Paul was dramatically converted on the road to Damascus (Acts 9:1-19), his destination for arresting Christians.  After his conversion he started preaching (Acts 9:20-22), but then spends 3 years in the Arabian desert (Gal. 1:11-17), getting some private tutoring from Jesus Christ.  He returned then to Damascus (Acts 9:23), then Jerusalem (Acts 9:26-29), where he faced opposition and had to flee to Tarsus (Acts 9:30).  He spent a year in Antioch (Acts 11:25), then returned to Jerusalem (Acts 11:30).
Back at Antioch Paul and Barnabas were commissioned for the first missionary journey (Acts 13:1-3).
Map by Mark Meynell
This happened in A.D. 46-48.  That first missionary journey took them to Cypress and Asia Minor (what we call Turkey, today), where they made disciples and established new churches (Acts 13:13-14:21a).  Then they returned to encourage those new congregations (Acts 14:21b-25a), returned to Antioch to give a missions report (Acts 14:26-38).  They then went to Jerusalem to defend a grace-oriented gospel before the council of Jerusalem in Acts 15.
It was on Paul's second missionary journey in 49-52 A.D. that Paul, Silas and Timothy first came to Philippi.  We will talk more about that next week.
Paul established a church there.  This newly established church was immediately willing to help Paul financially.
While in Thessalonica for the space of "three Sabbaths" the Philippians sent Paul funds more than once (Phil. 4:15-16). Turmoil and opposition (this time, Jewish) again forced him to leave town, and he traveled through Berea, Athens, and finally, Corinth, where he received a divine promise of protection, allowing him to settle down for eighteen months (50-51 CE).  During his stay at Corinth, the Philippian church again sent him aid (cf. 2 Cor. 11:7-9).
(3) In the spring of 52 CE, Paulbegan his third missionary journey.
This journey involved more than church-planting or follow-up; it also involved raising money for the Jerusalem congregations (cf. Acts 18:23; Rom. 15:25-26; 1 Cor. 16:1-4; 2 Cor. 9:1-2, 12-23). "There was a theological as well as practical reason behind this effort. Paul's emphasis on the gospel of grace entailed accepting Christian Gentiles without their being required to fulfill any Jewish ceremonies (cf. Gal. 5:2-6).  This approach raised a few eyebrows in some Jewish circles, created serious tensions even among moderate groups, and provoked furious opposition elsewhere (cf. Acts 15:1-5; Gal. 2:1-16)."  The opposition Paul was facing was from "Judaizers," who attempted to sabotage Paul's ministry of salvation by grace alone through faith alone in Christ alone.
After almost three years in Ephesus, Paul resumed his fund-raising trek to Jerusalem.  He came to Macedonia in the spring of 55 CE.  Since the Philippians had given so much to Paul's ministry, he asked nothing of them for this Jerusalem project.  However, they insisted, even though they themselves were poor (cf. 2 Cor. 8:1-5).
Paul finally brought the money to Jerusalem (cf. Acts 21:17-19).  Shortly after the visit, he was arrested and spent two years in prison in Caesarea (spring, 56 CE–summer, 58 CE).  During this imprisonment, the Philippians were both uncertain as to Paul's fate, and lacked funds to help him (Phil. 4:10).
When Paul appealed to Caesar in the summer of 58 CE, he sailed for Rome for trial (Acts 25:10-12; 27:1).  News of his appeal would certainly have spread to his churches.  The Philippians once again would have wanted a share in his expenses (Phil. 4:10).
We can see why this congregation had become so dear to Paul.
So they dispatched Epaphroditus to Rome with their gift (Phil. 4:18).  But Epaphroditus came with more than money: he also had questions for the apostle about the church's opponents, and the members' own poverty (cf. Phil. 3:2, 18-19; 4:6, 19).  As well, the church was hoping that Paul would retain Epaphroditus as his assistant and send Timothy back to them (Phil. 2:19-30).
Paul, however, was unable to send Timothy until he found out more about his own circumstances. Instead, he decided to send Epaphroditus back (Phil. 2:25-30).  "Aware that the Philippians would be deeply disappointed to see Epaphroditus rather than Timothy return, Paul was faced with a serious challenge.  How would he cushion the inevitable disappointment?"
So Paul wrote this letter and dispatched Epaphroditus with his letter to the Philippians.
Moises Silva says,
"The very difficulty of the task that was before the apostle would draw from him, under divine inspiration, a message full of comfort and joy, rebuke and encouragement, doctrine and exhortation.  Quite beyond Paul's own powers of anticipation, the letter he was about to dictate would speak to the hearts of countless believers for many centuries to come."
So why did Paul write this letter?
First, it is a "thank you" letter to the Philippians thanking them for their most recent gift and reminding them how faithfully God takes care of him AND them.
Secondly, it is a response to the various questions and problems raised by Epaphroditus, including issues of poverty, quarrelsomeness, selfishness, as well as outside opposition to Paul's gospel.
Finally, the letter is a diplomatic reintroduction of Epaphroditus in light of the Philippians' hope that Timothy would be sent.
Daniel Wallace says that…
Philippians is essentially a "thank you" letter for the sacrificial giving that the Philippians had made on Paul's behalf.  But because their own sacrifice was so great they began to doubt God's continued provision.  Thus the themes of (1) thanksgiving for God's provision, (2) regarding one another as more important than oneself, (3) rejoicing over their salvation in the face of opposition, and (4) trusting God for his care are all found in this occasional letter.
So let's talk for a few minutes about joy.  Few people realize how important joy is to the Christian life, and fewer experience it consistently.
Of course, joy can be distinguished from happiness (although not all agree).  Happiness can be said to be tied to happenings, to favorable circumstances, so that we experience a certain degree of pleasure and satisfaction when circumstances turn out in a positive way for us.
On the other hand, and we see it in this epistle, joy is something that is present even when circumstances are not favorable.  Paul is in prison, unsure whether he will get out or continue to live, yet he expresses joy.
As I mentioned earlier, in order for us to experience joy, we have to tie that joy to things that are unchanging—like God's character and promises.  We have to anchor it in unchanging spiritual truths about God and ourselves.
While temperament and the rigors of daily life can certainly challenge our joy, the real joy-sapper is living in sin.
Thus, Jim Johnston says…
But the most miserable Christians I've seen are those who live with a foot in both worlds.
They hedge their bets.  They have one eye on heaven and one on earth.  They call on the name of Christ, but they still try to find security, satisfaction, pleasure, or fulfillment from this world.  They're riding the fence.  And they're not happy.
Is that you?  The only way to have joy is to say a full "Yes" to God.  Which means saying "No" to the world.
The Psalms drive this truth home.
I say to the Lord, "You are my Lord; I have no good apart from you." (Psalm 16:2)
And again,
Whom have I in heaven but you? And there is nothing on earth that I desire besides you. (Psalm 73:25)
And again,
I cry to you, O Lord; I say, "You are . . . my portion in the land of the living." (Psalm 142:5)
In the New Testament, James writes,
Do not be deceived, my beloved brothers. Every good gift and every perfect gift is from above, coming down from the Father of lights. (James 1:16–17)
Calvin put it this way:
It will not suffice simply to hold that there is one whom all ought to honor and adore, unless we are also persuaded that he is the fountain of every good, and that we must seek nothing elsewhere than in him. . . . For until men recognize that they owe everything to God, that they are nourished by his fatherly care, that he is the Author of their every good, that they should seek nothing beyond him — they will never yield him willing service. Nay, unless they establish their complete happiness in him, they will never give themselves truly and sincerely to him. (Institutes, 1.2.1)
John Piper believes that God's glory and our joy are not mutually exclusive, but that they fit together hand in glove.  When we find God to be our greatest joy, as He rightly is, then He is most glorified.  He says, "God is most glorified in us when we are most satisfied with Him."
That is what is so wonderful about being a Christian—that we are clued in to what we bring us the greatest joy.
Sources for this message
https://thirstyones.com/2013/01/07/the-theme-of-joy-in-philippians/
https://bible.org/seriespage/philippians-introduction-argument-and-outline
https://www.thegospelcoalition.org/course/philippians-introduction/#overview
https://www.desiringgod.org/articles/why-are-so-many-christians-unhappy
Sources for this message
https://thirstyones.com/2013/01/07/the-theme-of-joy-in-philippians/
https://bible.org/seriespage/philippians-introduction-argument-and-outline
https://www.thegospelcoalition.org/course/philippians-introduction/#overview
https://www.desiringgod.org/articles/why-are-so-many-christians-unhappy