Today's readings are from Exodus 26, John 5, Proverbs 2 and Galatians 1.
Exodus 26 continues with the instructions for the furnishings of the tabernacle., dealing with the coverings and curtains for the tabernacle (26:1-14), the framing systems (26:15-30) and the two barriers–the veil between the holy place and holy of holies and the screen for the doorway (26:31-37).
This veil separates the Holy place from the Holy of Holies. Knowing the use of these colors, you recognize that they represent the entrance into a heavenly (blue), royal (purple) and redemptive (scarlet) area, for beyond this veil is the very presence of the King!  It was four inches thick!  This is what makes Matthew 27:50-51 so fantastic!
We move through the veil by Jesus, the new and living way (Hebrews 9:11-12; 22-24).
In John 5 Jesus heals a man at the pool of Bethesda (Jerusalem) on the Sabbath.
Land of the Bible
Jesus was there for a feast, likely Passover.  There were three Jewish feasts which every Jewish male within fifteen miles of Jerusalem was obligated to attend.  Those feasts were Passover (remembering God leading them out of slavery in Egypt), Pentecost (remembering God giving them the law at Mt. Sinai), and Tabernacles (remembering God sustaining them in the wilderness).
At the pool of Bethesda Jesus asks a 38-year invalid what seems a strange question, "Do you want to be healed?" (v. 6).  That seems like a "duh" question, but it really gets to the heart of all our struggles.  Do we really want to get well?
The man immediately explained all the efforts he had taken, to no avail.
Calvin writes: "The sick man does what we nearly all do. He limits God's help to his own ideas and does not dare promise himself more that he conceives in his mind."
Jesus asked him to obey a simple command (the impossible) and the man did obey and was healed.
Problem–it was the sabbath and the Jews objected to the timing of the healing.  Verse 16 explains…
And this was why the Jews were persecuting Jesus, because he was doing these things on the Sabbath.
The following chart is from Tom Constable, showing the controversies between Jesus and the Jewish leaders in chronological order.
SABBATH CONTROVERSIES

Event

Matthew
Mark
Luke

John

The disciples plucked ears of grain in Galilee.

12:1-8

2:23-28

6:1-5

Jesus healed a paralytic at the Pool of Bethesda in Jerusalem.

5:1-18

Jesus healed a man with a withered hand in Capernaum.

12:9-14

3:1-6

6:6-11

Jesus referred to the Jews circumcising on the Sabbath.

7:22-23

Jesus healed a man born blind in Jerusalem.

9:1-34

Jesus healed a woman bent over in Judea.

13:10-17

Jesus healed a man with dropsy in Perea.

14:1-6
What Jesus said next blew their minds–Jesus was calling God his own Father, "making himself equal to God."  In the remainder of the chapter Jesus explains why this is, in fact, reality.
Jesus does exactly what He sees His Father doing (vv. 19-20).
Jesus and the Father do the same (divine) works (vv. 21-23)
Most importantly, the Son gives resurrection life (vv. 24-27)
Therefore, He will judge you (vv. 28-30)
There is more than one, even more than two witnesses (vv. 31-39): the testimony of Jesus (vv. 31-32), John the Baptist (vv. 33-35), the miracles (v. 36); the Father (v. 37-38) and the Scriptures (v. 39).
Their unbelief is due to their need for man's approval (vv. 40-44) and even their beloved Moses testified against them (vv. 45-47).
I am trying here to prevent anyone saying the really foolish thing that people often say about Him: I'm ready to accept Jesus as a great moral teacher, but I don't accept his claim to be God.  That is the one thing we must not say.  A man who was merely a man and said the sort of things Jesus said would not be a great moral teacher.  He would either be a lunatic—on the level with the man who says he is a poached egg—or else he would be the Devil of Hell.  You must make your choice.  Either this man was, and is, the Son of God, or else a madman or something worse.  You can shut him up for a fool, you can spit at him and kill him as a demon or you can fall at his feet and call him Lord and God, but let us not come with any patronising nonsense about his being a great human teacher. He has not left that open to us. He did not intend to. . . . Now it seems to me obvious that He was neither a lunatic nor a fiend: and consequently, however strange or terrifying or unlikely it may seem, I have to accept the view that He was and is God.
–C. S. Lewis in Mere Christianity
John omitted many events in the life of Jesus—between John 5:47 and 6:1—that the Synoptic evangelists recorded as happening. These include the resumption of Jesus' Galilean ministry (Matt. 5—7; 8:5-13, 18, 23-34; 9:18-35; 10:1—13:53; 14:1-12; Mark 2:23—6:30; Luke 6:1—9:10a).
Proverbs 2 extends the urgency of gaining wisdom.  It first contrasts the typical disregard for wisdom and truth at the end of chapter 1 by urging…
1 My son, if you receive my words and treasure up my commandments with you, 2 making your ear attentive to wisdom and inclining your heart to understanding; 3 yes, if you call out for insight and raise your voice for understanding, 4 if you seek it like silver and search for it as for hidden treasures, 5 then you will understand the fear of the LORD and find the knowledge of God.
It almost seems a circular activity–the fear of the Lord is the beginning of wisdom (1:7) and by seeking wisdom "you will understand the fear of the Lord" (2:5).
There are two dangers every young man faces–sexual temptations and temptations to do evil.  This is why wisdom is so important, because it can guard you and deliver you.
Proverbs 2:16-19, Proverbs 5; Proverbs 6:23-35 and Proverbs 7 as well as a variety of one-liners, explain the ways of sexual seduction as well as the consequences.  I would encourage you to read these passages and write down a list of consequences you would face by getting sexually involved with someone you are not married to.
See John Piper's article ANTHEM: Strategies for Fighting Lust for practical help in overcoming this very common temptation (for both men and women).
Galatians is the defense of the good news.  Christians at Galatia, many of whom were Jews, steeped in Judaism all their lives, were in danger of moving back into depending upon the law.  Galatians is written to show that we do not depend upon the law for either salvation or sanctification.
John W. Lawrence calls it the "Magna Carta of Christian liberty."
Martin Luther: The Epistle to the Galatians is my Epistle. I have betrothed myself to it. It is my Katie – it is my wife.
Speaking of Luther's use of the book of Galatians, Godet says: This was the pebble from the brook which, like another David, he went forth to meet the papal giant and smite him in the forehead. In this epistle Luther found the secret of his own deliverance. Taking this as his weapon, he plunged into the fearful conflict with the Papistry and religious materialism of his time.
John Stephenson shows the comparison between Paul's two great defenses of the gospel:
| | |
| --- | --- |
| Galatians | Romans |
| Passionate and emotional | Calm reflection |
| Christianity on the battlefield | Christianity in the study |
| One of the earlier epistles | One of the later epistles |
| Justification through faith defended from attacks | Justification through faith set forth systematically |
| Our Declaration of Independence | Our Constitution |
False teachers have convinced the Galatians that they are required to be circumcised. The result is division within their church (5:15).  Paul gives numerous reasons why they should return to the simple truth of the gospel.
ESV Study Bible
Paul's letter to the Galatians was likely written to the churches he had established during his first missionary journey (Acts 13:1-14:28).  He probably wrote the letter from his home church in Antioch in Syria, sometime before the Jerusalem council (Acts 15:1–31) around 48 A.D.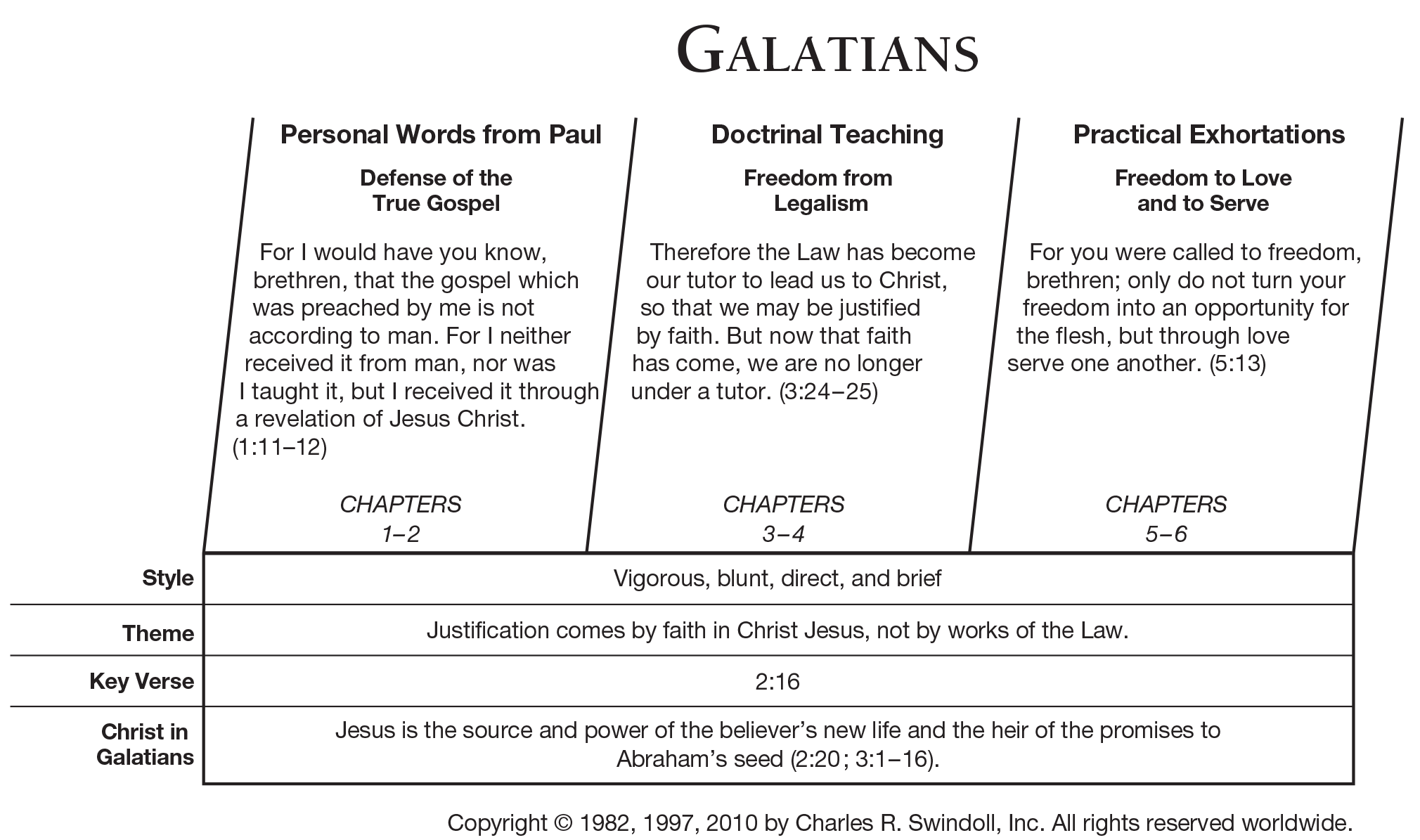 As we see frequently in Paul's epistles, Paul identifies himself as an apostle and then defends his calling, which was "not from men nor through man, but through Jesus Christ and God the Father, who raised him from the dead" (v. 1).
Unlike most of Paul's epistles, however, Paul neither calls them "saints" nor thanks God for them.  Why is this?  It is because he has received news that they are in the process of turning from the faith. They are denying that the death of Christ was sufficient in and of itself to save them.
Paul's gospel in Galatians is basically stated in vv. 3-4 as…
who gave himself for our sins to deliver us from the present evil age, according to the will of our God and Father, 5 to whom be the glory forever and ever. 
John Stephenson points out that the gift of the gospel was that Jesus "gave himself for our sins."
The error of the Galatians was over this very point.  They felt that the work of Christ on the cross was not enough to take away their sins.  They thought that they had to add something to the work of Christ.  But Christ's sacrifice was able to accomplish what it was designed to do.
| | | |
| --- | --- | --- |
| Who gave… | Himself… | for our sins |
| So that He might rescue… | Us… | from this present evil age |
The goal of the gospel is "to deliver us from the present evil age" (sanctification).
The plan of the gospel came from "the will of our God and Father," not from our intellect or desires.
The result of the gospel is the "glory" of God "forever and ever."
The gospel is good news, not good advice.  It tells us what God has done for us, not what we need to do for God.  However, some were teaching that what God had done was not enough.  What they were preaching was not the gospel, but an anti-gospel.
It didn't matter who was preaching it…Jesus + anything = damnation.
Paul gives his conversion testimony and how he came to be called to preach the gospel in vv. 11-21.
Paul concludes this section of his argument.  He is an apostle.  His authority is independent of anyone in Jerusalem.  His authority is from God and his message is from God.  He has demonstrated that his gospel could not have come…
(a) BEFORE his conversion because he was against that message.
(b) AFTER his conversion because he met with none of the other apostles.
And, as we shall see in chapter 2, when he finally did have some significant interaction with Peter, it was not a case of Peter giving revelation to Paul, but Paul giving revelation to Peter.