Today's readings are from Exodus 15; Luke 18; Job 33 and 2 Corinthians 3.
Exodus 15 is the worship service after the Exodus.  It illustrates the difference between prose in Exodus 14 and poetry in Exodus 15.
This "song" retells the story in chapter 14 in much more figurative language.  In verses 1, 4 and 21 God is pictured as a mighty warrior who picks up in his hand the force of Pharaoh and hurls them into the sea.  Yet in chapter 14 the forces of Pharaoh are described as having followed the Israelites into the Red Sea and when the waters returned to their normal position the Egyptians were drowned.
We also see in verse 7 a description of God consuming the Egyptian like stubble.  But Pharaoh's forces were not burned; they drowned!  This is no problem for the song composer because "consumed like stubble" is a common Old Testament metaphor for judgment and destruction (cf. Isaiah 5:24; 47:14; Joel 2:5; Obadiah 18; Nahum 1:10).
In the midst of the song is the phrase:
11 "Who is like you, O LORD, among the gods?  Who is like you, majestic in holiness, awesome in glorious deeds, doing wonders?
The Exodus had proven to them the uniqueness of God, preparing them emotionally for "you shall have no other gods before me" (Exodus 20:3).  The Exodus was not only an act of unparalleled strength, but great love…
13 "You have led in your steadfast love the people whom you have redeemed; you have guided them by your strength to your holy abode.
They correctly foretold of how this news would affect the peoples toward whom they would go…
14 The peoples have heard; they tremble; pangs have seized the inhabitants of Philistia. 15 Now are the chiefs of Edom dismayed; trembling seizes the leaders of Moab; all the inhabitants of Canaan have melted away. 16 Terror and dread fall upon them; because of the greatness of your arm, they are still as a stone, till your people, O LORD, pass by, till the people pass by whom you have purchased.
Charles Spurgeon notes:
"Notice, the song is all of God; there is not a word about Moses.  Read this song through, and neither Moses, nor Aaron, nor Miriam are in it: God is all in all."
After this inspiring worship service, Israel set out and three days later "found no water."  The first waters they came to were bitter, so they named it Marah (bitterness).  And then they grumbled.  Moses threw a log into the water and it became sweet.  From there they traveled to Elim, where there were 12 springs of water (v. 27).  God gave them a wonderful promise…
26 saying, "If you will diligently listen to the voice of the LORD your God, and do that which is right in his eyes, and give ear to his commandments and keep all his statutes, I will put none of the diseases on you that I put on the Egyptians, for I am the LORD, your healer."
Even true believers, in seasons of sharp trial, will be tempted to fret, distrust, and murmur.  But in every trial we should cast our care upon the Lord, and pour out our hearts before him.  We shall then find that a submissive will, a peaceful conscience, and the comforts of the Holy Ghost, will render the bitterest trial tolerable, yea, pleasant.  Moses did what the people had neglected to do; he cried unto the Lord.  And God provided graciously for them.  He directed Moses to a tree which he cast into the waters, when, at once, they were made sweet.  Some make this tree typical of the cross of Christ, which sweetens the bitter waters of affliction to all the faithful, and enables them to rejoice in tribulation.
–from Matthew Henry's Concise Commentary on the Bible, written in 1706
What bitterness might there be in your life?  Could the wood of the cross of Christ help change the bitter to sweet?  The promise is this:  "We know that God is always at work for the good of everyone who loves him " (Romans 8:28, CEV).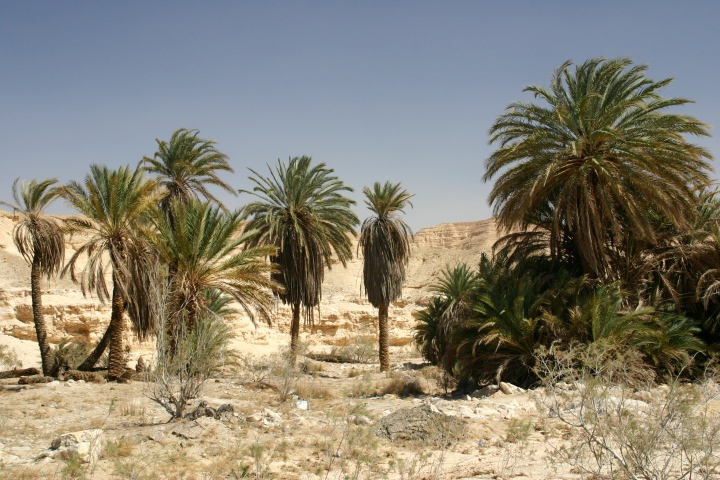 BibleIsTrue.com by Lion Tracks Ministries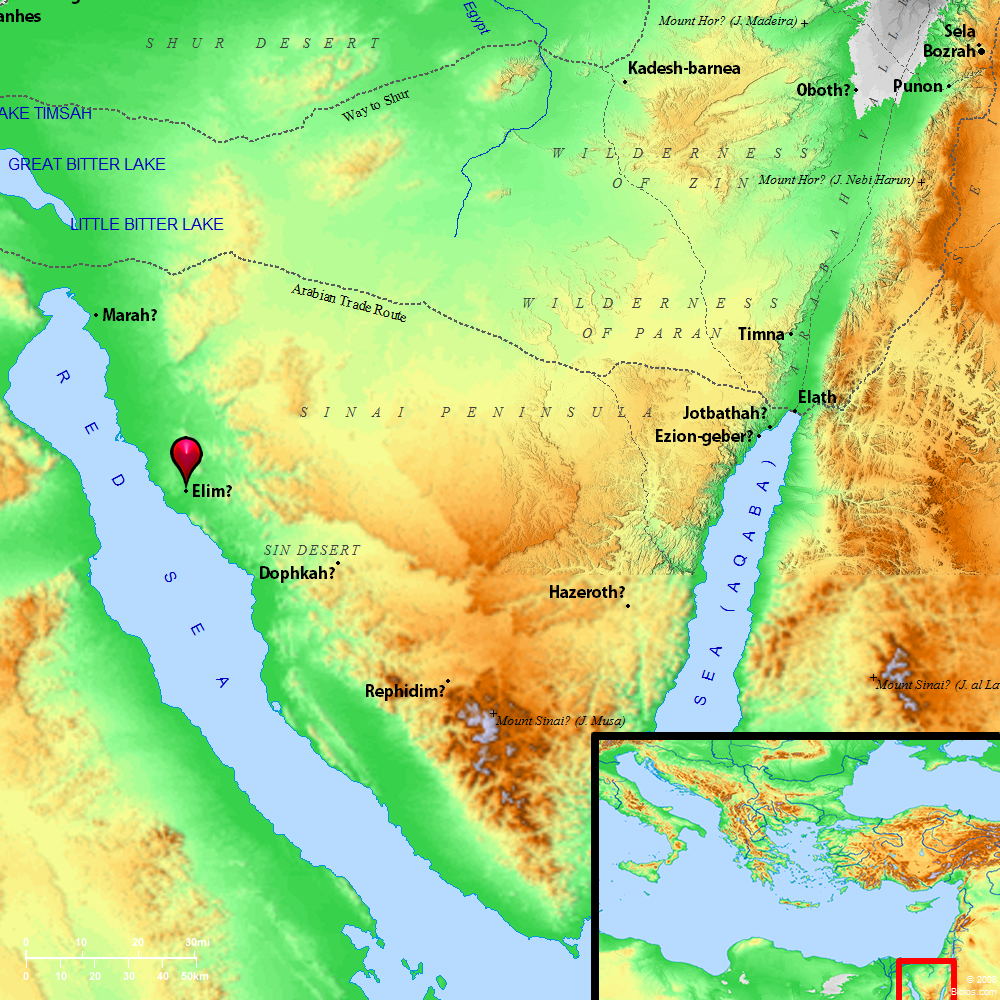 Luke 18 begins with the parable of the persistent widow (Luke 18:1-8).  We've all had times when we prayed and prayed and prayed and nothing happened.  Should we give up?  This parable encourages us to continue because God is generous.  The parable is an exhortation to persevere in the faith rather than apostatizing (i.e., turning away from it). God will vindicate His elect at the Second Coming (cf. Ps. 125:2-3; Rev. 6:9-11). That will be His ultimate answer to these prayers of His people, but immediate help before that coming is primarily in view in this parable.
Luke next developed the idea of "faith on the earth" that Jesus introduced in verse 8.  This whole section clarifies how people become believers.  This subject is a fitting conclusion to the part of Luke's Gospel that deals with Jesus' ministry on the way to Jerusalem (9:51—19:27).  Essentially, this section records Jesus' teaching that salvation and eventual entrance into the kingdom come by God's grace through faith, rather than by claims to legal righteousness.  The apostle Paul wrote about the process of justification (e.g., Rom. 3:21—5:21), but Luke's concern was the recipients of it.
In 18:9-30, Luke illustrated entry into the kingdom of God from a position of deficiency, either of righteousness (18:9-14), or money (18:18-23).  The chapter ends with Jesus healing the blind man near Jericho (18:35-43).
Stephen Miller
Job 33 is Elihu's first speech to Job.  In summary, he told Job that God was not silent, as Job had charged, but that He was speaking through dreams and sickness to Job.  Rather than using suffering to punish Job for his sins, God was using it to prevent him from dying. Elihu said God was being merciful to Job.  The three counselors had said the purpose of suffering was punitive. Job's wife, before them, had said Job was suffering because God was unfair.  Now Elihu offered a third solution: God was trying to teach Job something.  He said the purpose of suffering is pedagogical, educational.
Tom Constable has this chart
Elihu's views contrasted with those of the three friends as follows.
| | |
| --- | --- |
| THREE FRIENDS | ELIHU |
| Sin leads to suffering. | Suffering leads to sin. |
| Suffering is retributive. | Suffering is protective |
| Suffering is punitive. | Suffering is educational. |
| Job should repent. | Job should learn. |
| Job should initiate restoration. | God had initiated restoration. |
Job did not respond to Elihu's speech.  This is unusual, since he replied to his three friends' speeches and to God's speeches.  Perhaps Job was silent here, because he did not know how to respond to Elihu, and was overwhelmed by his arguments.  Or, perhaps, he was processing what Elihu had said when Elihu began speaking again.  Elihu had made a distinction that the three friends had not made.  He distinguished God's punishment from His chastisement.  Elihu viewed God's attitude toward Job more like that of a loving father than that of an impartial judge.
2 Corinthians 3 begins with Paul telling the Corinthians that they were Paul's letter of commendation–the changes in their lives was proof that he was an apostle (3:1-3).
Harry Ironside said:
What makes a good letter?  First, a good letter must be legible, easy to read. Living epistles of Christ should be easily read, not confusing to the "reader."  Second, a good letter should contain clear, definite statements.  Readers should not be baffled by the statements that the letter makes.  Third, a good letter should reveal the personality of the one who writes it.  Christian "letters" should also reveal the personality of Christ, who has made them and sent them to communicate His mind.
Paul then contrasts the old and new covenants, along with old and new covenant ministry.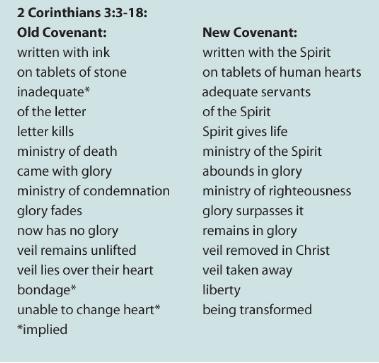 Tom Constable says…
The New Covenant went into effect and replaced the Old Covenant when Jesus Christ died.  Some of its benefits began to bless all people immediately (vv. 6-11; cf. Heb. 10:1-18).  However, its other benefits, specifically those on Israel, will not take effect until God resumes dealing with Israel as a nation (Jer. 31:31-34).  This will happen when Jesus Christ returns to the earth and restores Israel as her Messiah.
SUMMARY OF CONTRASTS BETWEEN THE OLD AND NEW COVENANTS
1.
economy
(old)
new
v. 6
2.
type
letter
spirit
v. 6
3.
results manward
death
life
v. 6
4.
vehicle
stone
Spirit
v. 7
5.
results Godward
some glory
greater glory
vv. 7, 8, 10
6.
purpose
condemnation
righteousness
v. 9
7.
duration
temporary
permanent
v. 11
The new covenant ministry gives a greater sense of boldness (3:1-4:6).