Today's readings from from Exodus 12:22-51; Luke 15; Job 30 and 1 Corinthians 16.
The Feast of Unleavened Bread began with the Passover meal (Exodus 12:15-20), and continued for seven more days (v. 15). The bread that the Jews used for these feasts contained no leaven (yeast), which made it like a cracker rather than cake in its consistency.  Here it not only reminded the Israelites, in later generations, that their ancestors fled Egypt in haste, before their dough could rise—it also reminded them that their lives should resemble the "unleavened bread" as redeemed people.
vv. 21-28 give the directions concerning the Passover.  The avenging angel came and killed the firstborn of the Egyptians (vv. 29-36) and Israel leaves Egypt (vv. 37-42).
The text is very definite that Israel was in Egypt "430 years, to the very day" (v. 41).  This probably refers to the time, beginning when Jacob entered Egypt with his family (1876 B.C.), to the day of the Exodus (1446 B.C.).  Tom Constable has this helpful graphic:
Luke 15 is one of my favorite passages in Scripture, giving the parables of the lost sheep (1 in 100), lost coin (1 in 10) and lost son (1 of 2), all exhibiting that lost people matter to God.
"Often I have asked friends to give me their first impression of Rembrandt's Prodigal Son.  Inevitably, they point to the wise old man who forgives his son: the benevolent patriarch.

"The longer I look at 'the patriarch', the clearer it becomes to me that Rembrandt has done something quite different from letting God pose as the wise old head of a family.  It all began with the hands.  The two are quite different.  The father's left hand touching the son's shoulder is strong and muscular.  The fingers are spread out and cover a large part of the prodigal son's shoulder and back.  I can see a certain pressure, especially in the thumb.  That hand seems not only to touch, but, with its strength, also to hold.  Even though there is a gentleness in the way the father's left hand touches his son, it is not without a firm grip.

"How different is the father's right hand!  This hand does not hold or grasp.  It is refined, soft, and very tender.  The fingers are close to each other and they have an elegant quality. It lies gently upon the son's shoulder.  It wants to caress, to stroke, and to offer consolation and comfort. It is a mother's hand….

"As soon as I recognized the difference between the two hands of the father, a new world of meaning opened up for me.  The Father is not simply a great patriarch.  He is mother as well as father.  He touches the son with a masculine hand and a feminine hand.  He holds, and she caresses. He confirms and she consoles.  He is , indeed, God, in whom both manhood and womanhood, fatherhood and motherhood, are fully present.  That gentle and caressing right hand echoes for me the words of the prophet Isaiah: "Can a woman forget her baby at the breast, feel no pity for the child she has borne?  Even if these were to forget, I shall not forget you.  Look, I have engraved you on the palms of my hands."

–from Henri J. M. Nouwen's book The Return of the Prodigal Son:  A Story of Homecoming, based on his contemplation of the painting by Rembrandt, above.
Of course, the story of the prodigal is really about the father.  He is excessive in his love to both sons.  Of course, point of the whole story started with the complaint of the Pharisees and scribes, "This man receives sinners and eats with them."
Tim Keller points out that both sons needed to be "saved."  The younger son from his immorality, the older son from his morality.  One needs to repent not only of self-indulgent sins, but self-righteous morality.  Usually the harder person to reach is the self-righteous moralist.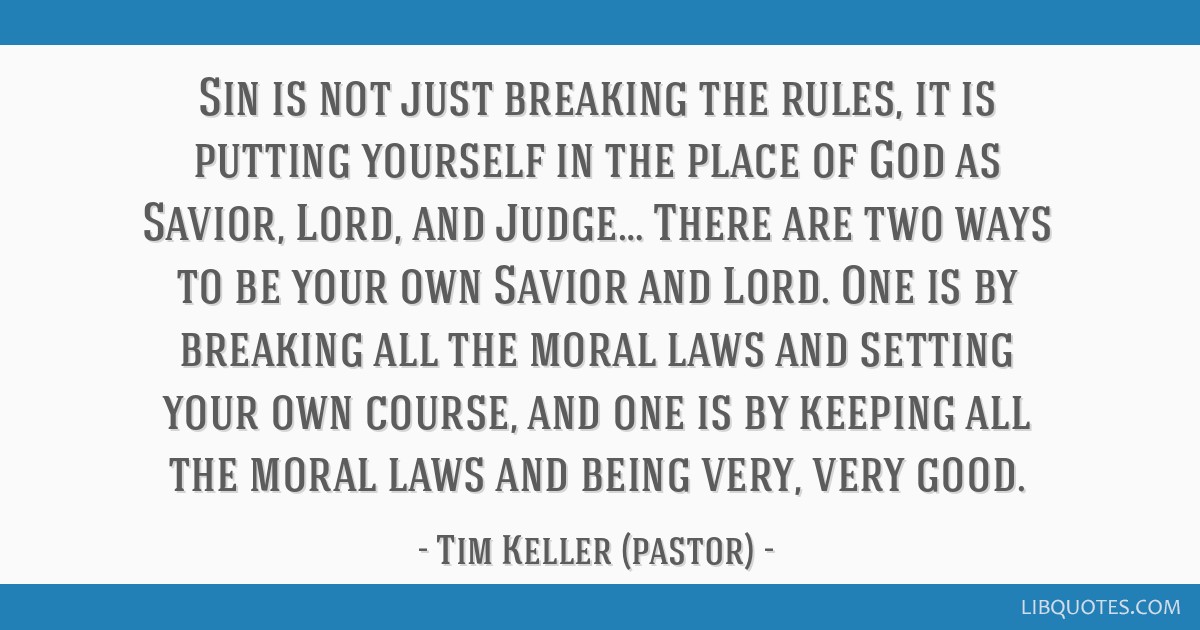 Again, Tim Keller…
"Neither son loved the father for himself.  They both were using the father for their own self-centered ends rather than loving, enjoying, and serving him for his own sake.  This means that you can rebel against God and be alienated from him either by breaking his rules or by keeping all of them diligently.  It's a shocking message: Careful obedience to God's law may serve as a strategy for rebelling against God."
Get his book The Prodigal God.
While Job 29 focused on Job's past track record, Job 30 focuses on his present misery.  Job was presently without respect (vv. 1-15), disregarded (vv. 16-23), and despondent (vv. 24-31).  He had formerly enjoyed the respect of the most respectable, but now he experienced the contempt of the most contemptible (vv. 1-15; cf. 29:8, 21-25).
J. Vernon McGee concludes: "He justifies himself instead of justifying God.  In fact, he blames God.  What is the problem of Job?  It is pride."  If there is a sin in Job, it is this.
1 Corinthians 16 finishes the book.  All that remains is to give instructions for a collection to relieve the poor saints in Jerusalem, to discuss Paul's travel plans, to prepare the way for Timothy's visit, and give personal greetings.
As believers, we should give according to plan ("first day of every week") and proportionately ("in keeping with his income").  We see something similar in the Antioch church when word reached them of a need.
"The disciples, each according to his ability, decided to provide help for the brothers living in Judea." (Acts 11:29)
Paul shares his tentative travel plans, with a balance of the words "if it seems advisable" (meaning Paul would weigh the pros and cons) and "if the Lord permits" (meaning Paul made no presumptions about the possibilities, cf. James 4:13-18).
As it turns out, the visits Paul proposed in 16:4-8 didn't come to pass as soon as Paul hoped due to intervening circumstances.
I recently preached on Paul's exhortation to men in 16:13-14
13 Be watchful, stand firm in the faith, act like men, be strong. 14 Let all that you do be done in love.
We need to be alert–regarding our marriage, our children and our culture.  We must stand firm in correct doctrine.  We must "act like men" or "be courageous" in standing firm in moral issues.  We must "be strong," not against our family (abuse) but for our family.  And all of it must be tempered by love.