Today's readings are from Genesis 45, Mark 15, Job 11 and Romans 15.
In Genesis 45 Joseph finally reveals himself to his brothers.  At first the brothers were dismayed, probably from shock.  Joseph saw God's purpose in all his trials.
7 And God sent me before you to preserve for you a remnant on earth, and to keep alive for you many survivors.
He will expand on this in 50:20.
All Joseph's sorrows were for a purpose.  God used them to preserve his family and provide the conditions for it to become a nation.  Joseph was a victim of men, but God turned it around for His glory.   And remember, if this family does not go into Egypt, then they assimilate among the pagan tribes of the Promised Land and cease to become a distinctive people.  God had to put them in a place where they could grow in numbers, yet stay a distinctive nation.
–David Guzik
Joseph then gave instructions to bring the whole family to Egypt (vv. 16-27).  They would be given "the best of the land of Egypt" by Pharoah (v. 18), the land of Goshen.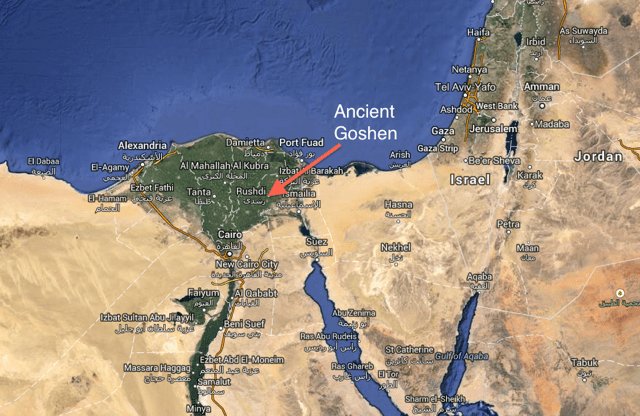 Typical scene in the Land of Goshen, Ferrell Jenkins
Mark 15 starts with Jesus' trial before Pilate, the Roman governor (vv. 1-15), then his mocking by the soldiers (vv. 16-20).
Why did the Jewish leaders take Jesus to Pilate at all?  First, they did not have the legal right to execute their own criminals because Rome revoked that right in A.D. 7.  At the time, the Jews regarded this loss as a national disaster because to them it was the final proof that they no longer had the basic right of self-government-–to punish their own criminals–-and it demonstrated that they were totally under the boot of Rome.  There were times when the Jews disregarded this prohibition of the Romans and executed those they considered criminals, such as at the stoning of Stephen (Acts 7:57-60).  Why didn't they take things into their own hands regarding Jesus?  Because they knew multitudes had a favorable opinion of Jesus and if Pilate executed Him, they could distance themselves from the political fallout.
–David Guzik
Vv. 21-41 record the crucifixion and vv. 42-47 Jesus' burial.
Job 11 is Zophar's first speech, wherein he criticizes Job (vv. 1-6) for his complaining, that he actually deserves worse than he had received (really Zophar, how would you like to be in Job's place?).  God can see his wickedness (vv. 7-12), therefore repent (vv. 13-19).  ( wonder how much of our counseling is like Zophar's speech.
Romans 15:1-7 continues the discussion of disagreement among those with different perspective on "gray area" issues (issues where there is no clear biblical prohibition or command).
Paul then speaks of his mission towards the Gentiles (vv. 8-13) and his reason for writing them (vv. 14-21), including his desire to plant churches where others have not gone and preach the gospel among those who have not heard.
20 and thus I make it my ambition to preach the gospel, not where Christ has already been named, lest I build on someone else's foundation, 21 but as it is written, "Those who have never been told of him will see, and those who have never heard will understand."
His desire was to make it to Rome (vv. 22-32).  He was on his way currently to Jerusalem (vv. 26, 31), but asks for prayers that he would be "rescued from the unbelievers in Judea" (v. 31) so that he could come see them.