Today's readings are Genesis 29, Matthew 28, Esther 5 and Acts 28.  Today we end Matthew and Acts.
In Genesis 29, unlike in Genesis 24, when Jacob goes to Haran to look for a wife he doesn't pray.  However, he wasn't a slacker.  He rolled the stone away and watered Rachel's sheep.  Find out that Rachel belonged to Laban he rejoiced, but didn't worship.
Bruce Waltke notes that this present scene (29:1-14) is "chiefly about God's providence versus Jacob's prayerlessness" (Waltke, Genesis, p. 402).
So Jacob marries…two daughters of Laban.  One he loved, Rachel, but Laban tricked him and gave him Leah first, thus forcing Jacob to work for him seven more years for Rachel.
David Guzik notes:
It was possible for Jacob to be fooled because of the wedding customs of the day.  According to those customs the wife was veiled until she was finally alone with her husband in the "honeymoon suite."  If it was dark by the time Jacob and his new bride were alone together (something Laban would not have difficulty arranging), it helps explain how Jacob was fooled.
And Thomas Constable says…
Jacob had pretended to be his older brother, and now Leah pretended to be her younger sister.  Laban and Leah deceived Jacob as Jacob and Rebekah had deceived Isaac.  Perhaps Jacob"s eating and drinking at the feast had clouded his mind (Genesis 29:22).
As Jacob had deceived Isaac by taking advantage of his inability to see due to poor eyesight (Genesis 27:36), so Laban deceived Jacob by taking advantage of his inability to see in the dark tent (Genesis 29:25).
The "bridal week" was the week of feasting that followed a marriage (Gen. 29:27; cf. Judges 14:12; 14:17). Jacob received Rachel seven days after he had consummated his marriage to Leah (cf. Genesis 29:28, 30).
The Hebrew name "Rachel" means "ewe," and "Leah" means "cow."  Ironically, Laban treated them as cattle and used them for bargaining and trading.
"Zilpah" means "small nose," and "Bilhah" means "carefree."  Jacob married two women in eight days.  The Mosaic Law later prohibited marrying two sisters at the same time (Leviticus 18:18). Bigamy and polygamy were never God"s will, however (Genesis 2:24).
Notice that Jacob was behaving like his parents, who each favored one son above the other, by favoring one of his wives above the other.  In both cases serious family problems followed.
Then Jacob began to have children, by one wife, then another.
There was definitely jealousy and competition between Rachel and Leah, and later between their sons.
Matthew 28–Christ is risen
What Happened on the Cross
by John Damascene (c. 675 – 749)
By nothing else except the death of our Lord Jesus Christ
has death been brought low:
The sin of our first parent destroyed,
hell plundered,
resurrection bestowed,
the power given us to despise the things of this world,
even death itself,
the road back to the former blessedness made smooth,
the gates of paradise opened,
our perfected nature seated at the right hand of God,
and we made children and heirs of God.
Here for Steven Green's Christ the Lord is Risen Today.
"Mary Magdalene and the other Mary went to see the tomb" (Matt. 28:1) and the angel said to them ""Do not be afraid, for I know that you seek Jesus who was crucified.  He is not here, for he has risen, as he said. Come, see the place where he lay" (vv. 5-6).  Hallelujah!
An angel had announced the Incarnation, and now an angel announced the Resurrection (Matt. 1:20-23); cf. Matt. 18:10).
7 Then go quickly and tell his disciples that he has risen from the dead, and behold, he is going before you to Galilee; there you will see him. See, I have told you." 8 So they departed quickly from the tomb with fear and great joy, and ran to tell his disciples.
"Fear and great joy," what would you feel, knowing your Lord, whom you have been with for at least a couple of years, whom you have seen doing miracles, teaching God's truth, casting out demons…has come back!
They should "go quickly" because this was great news indeed.
Of all the possible reasons for the tomb being open and empty that the women could have imagined, the angel clarified the one true explanation.  Jesus had risen from the dead.  The angel reminded them that Jesus had predicted His resurrection (cf. Matthew 16:21; 17:23; 20:18-19).  He then invited them to come and see where He had lain and to go and tell the other disciples that He had risen from the dead.
Now, the guards and religious elders concocted a story (read "fake news") that the disciples had stolen Jesus' body, if anybody asked (28:11-15).
Jesus then commissioned his disciples to go make more disciples (28:16-20).
Notice the repetition of "all" in vv. 18-20 : all authority, all nations, all things, and all the days.
We make disciples by going, baptizing and teaching.  And notice, it is "teaching them to obey all that I have commanded you."  Teaching without application does not fulfill the great commission.  Call people to do something!
We have His authority (v. 18) and His presence with us always.  There are no excuses.  We have everything we need.
Here is a good word from Francis Chan…
Esther 5
Chapters 5-7 carry us to the climax of our story.  They show how God providentially preserved and protected His people.
Chapter 5 is about Esther's wisdom in preparing an audience with the king and exposing Haman as the enemy of the Jews, and thus of the Persian Empire.
Here we have an example of how God controls the hearts of kings (Prov. 21:1).
Esther prepares a first banquet (5:1-8), inviting Haman as well.  Esther does not reveal her petition at this time, but requests another banquet the following day.
Literally the Hebrew says, "so we may do the word of Esther."  This is a deliciously ironic twist on a king who only three chapters before was terrified that women might not do the word of their husbands.  Vashti was banished for not coming when the king called, but now Esther has gotten away with coming when the king did not call.  The king who worried about women obeying their husbands is now obeying his wife, and ordering Haman to obey her as well.  And to add irony to irony, Haman not only obeys a woman, but delights in being hosted by a Jew—a Jew passing as a Persian so splendidly that she puts the lie to all he said about her people's disruptiveness.
–Patricia K. Tull
Esther. why wait?  The king has asked you for your request, twice!  The enemy is right there beside you!  Every day your fellow Jews are suffering!
BUT! — God will use the next 24 hours to accomplish important things!  The king will have insomnia, and Haman will initiate a construction project. . .
What are you waiting for the Lord to do for you?  As you wait, God is at work on your behalf.
"Wait on the Lord" (Psalm 27:14; 33:20-22; 62:5; 130:5-6; Isaiah 40:30-31; Lamentations 3:25; Isaiah 30:18
Haman leaves on cloud nine, but that quickly disappears when he sees Mordecai and Mordecai does not rise or show fear in his presence (5:9).  Haman goes home, boasting to family and friends that he was rich, that he alone was invited to Queen Esther's banquet, and yet complaining that Mordecai the Jew does not bow to him (5:10-13).
His wife Zeresh suggests that he set up a pole and ask the king the next day to have Mordecai impaled upon it (5:14).  No, Haman apparently had not read Proverbs Proverbs 26:27…
Whoever digs a pit will fall into it, and a stone will come back on him who starts it rolling.
Well, this is a pole, not a pit.  Whatever.
Acts 28, Paul finally gets to Rome.  28:1-10 tells us that Paul and those on his ship stayed first in Malta, where they were treated well by the people, but Paul was bitten by a snake.  They thought, "bad luck," but when he didn't die they changed their minds and thought he was a god (28:4-6).  Paul then healed Publius' father (v. 8) and several others (v. 9) so that Paul was honored by the people (v. 10).
After three months they sailed sailed to Syracuse and stayed there for three days (v. 11-12).
13a And from there we made a circuit and arrived at Rhegium.
Notice that they missed going through the Straits of Messina.
The waters there are treacherous.
So much so that in Greek mythology, a six-headed monster named Scylla lived on the Italian Peninsula and would pull sailors up and devour them if they came within her grasp, while an all-consuming whirlpool called Charybdis, on the Sicilian side, would suck passersby to their deaths.
In Homer's Odyssey, Odysseus and his crew confronted the two monsters while navigating through the Strait.  Emphasizing the dangers of the narrow Strait – 32 kilometres long and from 3 to 16 kilometres wide – it was only possible to avoid one of the monsters by sailing closely to the other.  Odysseus navigated his ship through safely, but Scylla managed to catch and devour six of his men.
But Paul didn't go that way.
13b And after one day a south wind sprang up, and on the second day we came to Puteoli.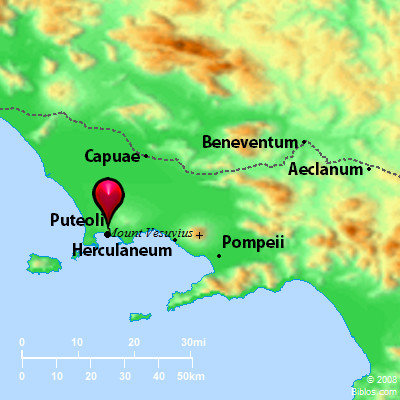 Notice that Puteoli is not far from Mount Vesuvius and Pompeii.  Mt. Vesuvius erupted in 79 A.D., destroying both Pompeii and Herculaneum.
Mount Vesuvius Today, Italy Magazine
Puteoli Harbor, Carl Rasmussen
14 There we found brothers and were invited to stay with them for seven days. And so we came to Rome.  15 And the brothers there, when they heard about us, came as far as the Forum of Appius and Three Taverns to meet us. On seeing them, Paul thanked God and took courage.
News of Paul"s arrival preceded him to Rome.  An entourage of believers traveled down the Appian Way, one of the major roads in Italy, 33 miles south to the Three Taverns, a resting spot.  There some of them waited while the more energetic among them proceeded another 10 miles to Appii Forum, a market town.
There Paul met his first Roman Christians.  He had sent them his epistle to the Romans three years earlier (in A.D. 57) from Corinth during his third missionary journey.  This group of greeters would have been a great encouragement to Paul who had looked forward so long to ministering in Rome (Rom. 15:22-29).  Their reception led Paul to thank God.  The trip from Malta probably took three weeks.
Paul was placed under house arrest (28:20) this first time in Rome (v. 16) and was allowed visitors.  He explained why he was in Rome (vv. 17-22) so many came to hear him (vv. 23) and there was the typical response:
24 And some were convinced by what he said, but others disbelieved.
So Paul, quoting Isaiah 6 (vv. 25-27) about their hardness of heart, turned to the Gentiles (v. 28)
Acts 28:28 is probably the ultimate climax of Acts.  It summarizes the main theme of the book. Having presented the gospel to the Jews in Rome, and having witnessed their rejection of it, Paul now focused his ministry again on the Gentiles (cf. Acts 13:46-52; 18: 6; Rom. 1:16).  Until "the times of the Gentiles" run their course and Messiah"s second advent terminates them, Gentiles will be the primary believers of the gospel (cf. Romans 11:19-26).
"Luke -Acts is basically a story about a mission.  Acts 28:28 comments on the mission"s future.  The narrative prepares for this comment by reports of the Gentiles" friendly response to Paul on the voyage and the Roman Jews" contrasting response.  When we recognize the careful reflection on the possibilities of mission among both Gentiles and Jews in Acts 27-28 , the impression that the ending of Acts is abrupt and unsuitable is considerably reduced." [Note: Tannehill, 2:343. See also Ladd, "The Acts . . .," pp.  1177-78.]
30 He lived there two whole years at his own expense, and welcomed all who came to him, 31 proclaiming the kingdom of God and teaching about the Lord Jesus Christ with all boldness and without hindrance.
With this expression [i.e, unhindered], which is literally Luke"s last word in Acts , he is saying that largely through Paul"s activities, the Church is now on the march, and nothing can stop it, echoing Jesus words, "I will build my church and the gates of hell shall not prevail against it."
Victory in Matthew 28 and Acts 28.