Today's readings are from Genesis 19, Matthew 18, Nehemiah 8 and Acts 18.
Genesis 19 records the destruction of Sodom and Gomorrah and the rescue of Lot's family (almost).  Derek Kidner indicates, " It is a superb study of the two aspects of judgment: the cataclysmic, as the cities disappear in brimstone and fire, and the gradual, as Lot and his family reach the last stages of disintegration, breaking up in the very hands of their rescuers" (Genesis, p. 134).
The two angels (see Genesis 18) who had left Abraham, came to Lot at Sodom.  Notice that Lot had a similar response as Abraham:
When Lot saw them, he rose to meet them and bowed himself with his face to the earth 2 and said, "My lords, please turn aside to your servant's house and spend the night and wash your feet. Then you may rise up early and go on your way."…And he made them a feast and baked unleavened bread, and they ate (v. 3b).
These seem to be normal aspects of Ancient Near Eastern hospitality.
Men of the city of Sodom came to Lot's house and asked for these two newcomers "that we may know them" (sexually, not "get acquainted").  Sadly, Lot offers his virgin daughters (v. 8).  Is this because Lot saw it as a "lesser offense" or because, according to the mores of hospitality, he was protecting his guests?  Either way, it was not a courageous response.  He was giving in to the pressure.
One can see from verse 9 that Lot had lost his ability to influence that culture.  Apparently, either through previous interaction or Lot's response in this case, they knew he would not stand strong against peer pressure.  Even his own sons-in-law didn't take him seriously (v. 14), so only Lot and his wife and two daughters (4, not 10) left Sodom with the angels.
Sailhamer notes:
"In order to show that the rescue of Lot was in response to the prayer of Abraham, the narrative reads so that the words of the messengers ["swept away," vv. 15, 17] recall explicitly the words of Abraham's prayer in behalf of the righteous in the previous chapter ["sweep away," 18:23]."
Verse 16 "But he lingered."  Even when Lot had heard the message of impending judgment on Sodom, he wavered.  He did not respond immediately, unlike Abraham will in Genesis 22.  "So the men seized him and his wife and his two daughters by the hand, the LORD being merciful to him, and they brought him out and set him outside the city."  That is what God has to do at times.  When we are unwilling to make a move, in mercy he "seizes" us and "takes" us to the place we need to be.
The rescue of Lot and his family was due ultimately to the Lord's mercy ("compassion"; v. 16).
When the angels tell Lot and his family not to look back, but to speed on their way to the hills, Lot begs that they be allowed to (compromise?) go the little town of Zoar.  The final word we have on this event is that Lot's wife looked back, though told not to (compare v. 26 to v. 17) and turned into a pillar of salt.
Vv. 27-29 tell us that Abraham stood and watched to see what had happened.  Like a good intercessor, when he had finished praying, he watched to see what would happen.  He saw the smoke of God's judgment and didn't know what had happened, but God "remembered Abraham" and rescued Lot (v. 29).
Verses 30-38 then recount the sad story of how the Moabites and Ammonites came into existence–through incest.  Thus, there are all kinds of sexual sins in relation to Lot and Sodom and Gomorrah.
The land of Moab on the east side of the Dead Sea.
Some want to argue that God didn't destroy Sodom and Gomorrah for the sin of homosexuality, but inhospitality.  That doesn't seem to be the case.  Lot was definitely sticking to the customs of hospitality, and the people of Sodom wanted to "entertain" these men as well.  It was their intention to "know" these men sexually, as well as other immoralities within the culture, that caused their destruction.  The Mosaic Law later regarded all homosexual behavior as a capital offense (Lev. 18:22; 20:13; cf. Rom. 1:26-27).
There is also disagreement on where Sodom and Gomorrah existed, north of the Dead Sea or south of the Dead Sea.  Abraham would have been able to see the smoke from either end of the Dead Sea.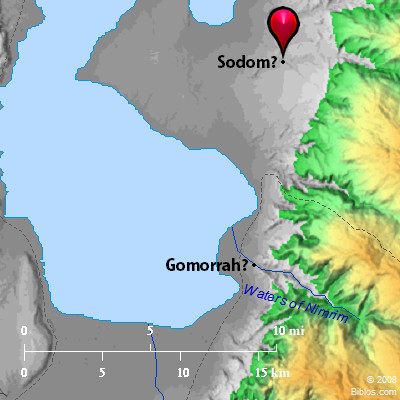 Bible Atlas
biblicalarchaeologygraves.blogspot.com
Matthew 18 begins with the disciples asking, "Who is the greatest in the kingdom of heaven?" (18:1).  Jesus points to a child and says that one cannot even enter the kingdom unless they become "like children" (trusting? curious? dependent?).  He tells them that humility is the key, then warns about tempting a child.  According to Jesus there could not be a worse sin than causing a child to sin.  It would be better to amputate a strategic part of your body and cause a child to sin.
I wonder if Jesus had pedophilia in mind?  However, Jesus seems to be equating children with believing disciples (adults).
Matthew 18:10 is where we get the idea of the possibility of "guardian angels."
"I tell you that in heaven their angels always see the face of my Father who is in heaven.
Thomas Constable writes:
Many interpreters believe that the last part of verse 10 teaches that God has guardian angels who take special care of small children.  However, the context of verse 10 is not talking about small children, but disciples who need to be as humble as small children.  Furthermore, the "angels" in this passage are "continually" beholding God's "face in heaven," not watching the movements of small children on earth.
Jesus then gives a parable about humility (vv. 12-13).  In Luke's gospel the purpose of this parable is evangelistic.  Here it is more pastoral.
12 What do you think? If a man has a hundred sheep, and one of them has gone astray, does he not leave the ninety-nine on the mountains and go in search of the one that went astray? 13 And if he finds it, truly, I say to you, he rejoices over it more than over the ninety-nine that never went astray. 14 So it is not the will of my Father who is in heaven that one of these little ones should perish.
The shepherd in the story is God (v. 14).  The sheep are those who follow Him, namely, Jesus' disciples (cf. 10:6; 15:24).  God has concern for every one of His sheep and seeks to restore those of them that wander away from Him.  He has such great concern for the wayward, that when they return to Him, "He rejoices more" than over those who did not wander away.  This does not mean that God loves His wayward sheep more than He loves His faithful sheep.  It simply means that when wayward sheep return to Him it gives Him special joy.
So, verses 1-11 warn us not to be a stumbling block to others, and then in vv. 15-17 Jesus tells us what to do when someone sins against us.  This is the "church discipline" passage, identifying the three steps to dealing with sin.
15 "If your brother sins against you, go and tell him his fault, between you and him alone.  If he listens to you, you have gained your brother. 16 But if he does not listen, take one or two others along with you, that every charge may be established by the evidence of two or three witnesses. 17 If he refuses to listen to them, tell it to the church.  And if he refuses to listen even to the church, let him be to you as a Gentile and a tax collector.
We have often understood the final step, excommunication, to mean that we cut off all contact with unrepentant sinners, but Jesus seemed to favor spending time with "Gentiles and tax collectors."  He did have a different purpose in doing so, however–not fellowship, but evangelism.  I'm assuming that what Jesus means is that if we see a "believer" sinning and not repenting of sin, then we treat them like an unbeliever who needs the gospel preached to him or her.
I don't believe a person can lose or forfeit their salvation, but their lives can eventually prove they never were saved, no matter how much they acted and dressed and talked and attended like Christians before.
All of these next three verses need to be taken together:
18 Truly, I say to you, whatever you bind on earth shall be bound in heaven, and whatever you loose on earth shall be loosed in heaven. 19 Again I say to you, if two of you agree on earth about anything they ask, it will be done for them by my Father in heaven. 20 For where two or three are gathered in my name, there am I among them."
I think verse 18 helps us understand what Jesus had meant back in Matthew 16:19 (the exact words).  With the church announcement, they would give or withhold whatever the judgment might involve, but they would really be announcing what God, the divine authority, had already decided.  Their decision would be God's will for the person being disciplined, assuming they had obtained the will of God before announcing it.
Believers have the ability, through either forgiveness or excommunication, to be in accord with how God is handling things in heaven.
Verses 19-20, so often taken as promises for (sparse) prayer meetings, is really about the issue of church discipline.  In the context, "anything" refers to any judicial decision involving an erring disciple that the other disciples may make corporately.  God has always stood behind His judicial representatives on earth when they carry out His will (cf. Ps. 82:1).  This is a wonderful promise.  God will back up with His power and authority any decision involving the corporate discipline of an erring brother or sister that His disciples may make after determining His will.
This means that what a church decides (with due process and much prayer) should be taken very seriously by all, for it has heaven's backing.  What typically happens, however, is that a person excommunicated from one church, is gladly welcomed (and often sympathized with) at another church.
The chapter ends with Peter's question about how often should I forgive someone who sins against me.  Peter thought himself magnanimous when he said "seven times" for the going rate among the Pharisees was just three times.
Jesus' response alluded to Genesis 4:24, where the ungodly Lamech said: "If Cain is avenged sevenfold, then Lamech seventy-sevenfold."  Lamech claimed to have taken even more revenge on the man who struck him than God had taken on Cain for killing his brother Abel.  Jesus turned Lamech's bad example around, and urged His disciples to practice generous forgiveness when their brothers hurt them.
The NASB has Jesus saying "seventy times seven," whereas the NIV translators wrote "seventy-seven times."  Probably the NIV is correct since Jesus quoted the Septuagint of Genesis 4:24 exactly here, and it has "seventy-seven times."  Even though the difference between these two translations is great numerically, it is not a very important difference.  Jesus was not specifying a literal maximum number of times His disciples should forgive their brothers.  Neither was He wiping out what He had just taught about confronting an erring brother (vv. 15-20).
Jesus' point was that disciples who are humble should not limit the number of times they forgive one another, or limit the frequency with which they forgive each other.  The following parable of the unmerciful servant clarified this point.  This one of the skits we acted out in Godspell last Spring.  I was the fellow servant who owned 100 denarii who got choked and kicked.
How was it possible for him to pay his debt from prison?
34 And in anger his master delivered him to the jailers,until he should pay all his debt.
This man was turned over to the torturers, had an impossibly high debt to pay, and couldn't possibly pay it from prison.  Jesus is obviously not talking about purgatory, where one can (reportedly) work their way, or be prayed and purchased, out of punishment.
Jesus drew the crucial comparisons in applying the parable to His disciples (v. 35).  He pictured God as forgiving graciously, yet punishing ruthlessly.  God cannot forgive those who are devoid of compassion and mercy because He is so full of these qualities Himself.  Jesus did not mean that people can earn God's forgiveness by forgiving one another (cf. 6:12, 14-15).  Nor does he mean that believers can lose their salvation if they fail to forgive.
I believe it does point out our true identity.  Someone who refuses to forgive, shows that they never were forgiven.  Someone who tries to forgive, but has difficulty forgiving, needs to remind themselves how much they have been forgiven by God.
Was this just hyperbole to drive home a point?  No, there are many negative consequences to being unforgiving, both in this life and in the life to come (loss of reward among them).
Thomas Constable concludes:
Jesus concluded this discourse on humility, as He had begun it, with a reference to entering the kingdom (v. 3).  Humility is necessary to enter the kingdom because it involves humbly receiving a gift of pardon from God (v. 27).  However, humility must continue to characterize the disciple.  Not only must a disciple live before God as a humble child (v. 4); he or she must also be careful to avoid putting a stumbling block in the path of another disciple (vv. 5-14).  Furthermore, he or she must humbly seek to restore a wayward fellow disciple (vv. 15-20).  Forgiving fellow disciples—wholeheartedly and completely—is likewise important for humble disciples (vv. 21-35).
Nehemiah 8 describes an amazing transformation in the returned exiles, which was due to the Word being preached.  The people were gathered…
3 And he read from it facing the square before the Water Gate from early morning until midday, in the presence of the men and the women and those who could understand.  And the ears of all the people were attentive to the Book of the Law.
The people had told Ezra to bring the "book of the Law" (Nehemiah 8:1) and they listened for a good six hours (standing, v. 5) AND THEY WERE ATTENTIVE.  Now, remember, this is "the Book of the Law" being read, not all of which is all that riveting.  Yet, through all the case laws of Exodus and offerings of Leviticus and census counts of Numbers, they paid attention.
Not only did Ezra read, but men went throughout the crowd helping them understand what was being read (Nehemiah 8:7).  Apparently, those who had grown up in Babylon and Persia spoke Aramaic and had forgotten some of their Hebrew.  The languages are similar (ben is "son" in Hebrew and "bar" is son in Aramaic, but that's about all I remember).
8 They read from the book, from the Law of God, clearly, and they gave the sense, so that the people understood the reading.
This is essentially what expository preaching is–giving the sense of Scripture–so that people can understand what it says and means.
Their natural response was weeping, mourning over their sins, but Nehemiah and Ezra told them rejoice and hold a feast, for "the joy of the Lord is your strength" (Nehemiah 8:10).  I believe they are saying that delighting in the Lord is our strength.  Delighting in the Lord gives us strength against temptation and for obedience.  But it might mean "God's delighting in you" is your strength.  That is certainly true as well, but given the fact that they are to engage in joyful celebration leads me to adopt the first meaning.
That wasn't the end of it.
13 On the second day the heads of fathers' houses of all the people, with the priests and the Levites, came together to Ezra the scribe in order to study the words of the Law.
A men's Bible study started.  They discovered that God's Word commanded the Feast of Tabernacles–living in makeshift huts for a week to remind them of the wilderness wanderings.  It recalled the protection, preservation, and shelter that God had provided for His people.  It had special significance for these Jews because it had originally been celebrated in preparation for entering the land and now they were celebrating it as they had returned to the land!
18 And day by day, from the first day to the last day, he read from the Book of the Law of God.  They kept the feast seven days, and on the eighth day there was a solemn assembly, according to the rule.
What a Bible conference!  Constant study of God's Word, repentance, joy and obedience.
Nehemiah did not record whether the people also observed the Day of Atonement that fell on the tenth of the same month.  Probably they did, since they were restoring the other Israelite institutions.  Perhaps he passed over mentioning it because the Day of Atonement was a sad day in the Jewish year.  It was the only fast among Israel's festivals wherein the people afflicted themselves in repentance for their sins.  Nehemiah seems to have wanted in this chapter, and in the whole book, to emphasize the positive aspects of the restoration, namely, God's faithfulness and the people's joy.
"Perhaps more than in anything else, Ezra's importance lies in the fact that he put the Bible of his day into the hands of the laity; it was no longer the exclusive preserve of the 'professionals.'  Much of the shape of Judaism thereafter was determined by this fundamental achievement." (Williamson, Ezra-Nehemiah, p. 298).
Acts 18 records Paul's ministry in Corinth (18:1-17) and Asia (18:18-22) on his second missionary journey
Bible Atlas
Wikemedia
There was an important canal/road across the isthmus which connected east to west.
This made Corinth a very important, influential, and thus worldly city.  In the ancient world to "corinthianize" was to commit immorality.
Paul's ministry in Corinth began with the Jews (v. 4), then transitioned to Gentiles (v. 6).
And many of the Corinthians hearing Paul believed and were baptized. 9 And the Lord said to Paul one night in a vision, "Do not be afraid, but go on speaking and do not be silent, 10 for I am with you, and no one will attack you to harm you, for I have many in this city who are my people." 11 And he stayed a year and six months, teaching the word of God among them.
But, that eventually ended as well.  The Jews attacked Paul, bringing him before a tribunal, but the proconsul Gallo would have nothing to do with it.
Paul had attempted to reach the province of Asia earlier (16:6).  Now the Lord permitted him to go there, but from the west rather than from the east. Luke recorded Paul's initial contact with Ephesus, in this section, which set the scene for his ministry there when he later returned from Syrian Antioch (ch. 19).
Paul had apparently made a vow at Cenchrae (see map above).  While vows are not encouraged, they are acceptable.  The Jews used them to either gain something from God, or thank God for giving them something.  Paul may have vowed to give God thanks for the protection he had received while in Corinth (cf. Acts 18:9-10).
Paul then sailed for Ephesus and had a short ministry there (Acts 18:19-21), promising them that he would return to them.  Eventually he landed back in Caesarea Maritima and then went back to Antioch.  Likely, he gave them a report of his second missionary journey (just as he did after his first journey, Acts 14:27).
In Acts 18:31 Paul begins his third missionary journey.
Paul spent some time going through Asia Minor, strengthening the disciples.  He eventually would arrive at Ephesus to begin a three-year ministry there, but first Luke tells us about Apollos (Acts 18:24-28).  Apollos faithfully proclaimed what he knew, but didn't know about Christian baptism.  Prisca and Aquila took him aside privately and helped him understand more about the Messiah, and grace, and baptism.
Homer Kent says…
"Before the encounter with Aquila and Priscilla, it is best to regard Apollos in the same class as OT saints.  They too hoped for salvation in Messiah and had not rejected him.  The entire Book of Acts depicts the transition from Judaism to Christianity.  It is not surprising, therefore, to find imperfect forms of faith during those epochal days." (Jerusalem to Rome: Studies in Acts, p. 149).
We will run into another example in the early part of Acts 19.
I love what A.T. Robertson says as well…
"It is a needed and delicate task, this thing of teaching gifted young ministers.  They do not learn it all in schools.  More of it comes from contact with men and women rich in grace and in the knowledge of God's ways." (Word Pictures in the New Testament, Volume 3:308).