Today's readings are Genesis 16, Matthew 15, Nehemiah 5, and Acts 15.
Genesis 16 is Abram and Sarah's attempt to take a short cut and help God out in keeping His promise for a son.  Sarah suggests that Abram sleep with Hagar and have an heir by her.  Abram listened to his wife, she "gave" her maidservant to Abram "as a wife" (16:3).  It was "successful," a son was born, but Sarah wasn't happy (and neither was God).
When Sarah complained, Abram said, "Deal with it" and Sarah made life so bitter for Hagar that she fled into the wilderness.  God, however, saw her and made her a promise regarding Ishmael.  God had seen (v. 13) and heard (v. 11) her cries.
Paul refers to this event and says that Hagar represents the Mosaic Covenant, and Ishmael is its fruit (slaves).  Sarai is the Abrahamic Covenant, and Isaac is its fruit (free sons).  Children of the flesh persecute children of the promise (Gal. 4:29).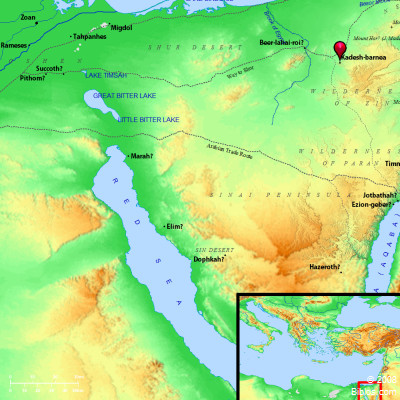 Matthew 15
The Pharisees and scribes had evaded the spirit of the command, namely, that children should take responsibility for their needy parents.  The "you" is emphatic in the Greek text. Halakic(rabbinic) tradition said that if someone vowed to give something to God, he should not break his vow.  Jesus said the law taught a more fundamental duty.  To withhold from one's parents what one could give to "help" them, because of what the rabbis taught, was greedy hypocrisy.  The error was not so much using the money for oneself or donating it for a good cause, but failing to give it to the needy parent.
To honor God with the lips, while the heart is very distant, does not really honor God.
Jesus says the Pharisees don't belong to God (v. 13) and are blind guides (v. 14).
Jesus rejected the Pharisees and scribes as Israel's authentic interpreters of the Old Testament.  This is a role He claimed for Himself!   This was a theological issue that ultimately led to Jesus' arrest and crucifixion.
In 15:21-28 Jesus cast a demon on of the Syro-Phoenician woman's daughter because she expressed a faith not found in Israel.
Thomas Constable has this chart comparing the two miraculous feedings:
| | |
| --- | --- |
| Feeding the 5,000 | Feeding the 4,000 |
| Primarily Jews | Primarily Gentiles |
| In Galilee near Bethsaida | In the Decapolis |
| Five loaves and two fish | Seven loaves and a few fish |
| 12 baskets of scraps | 7 baskets of scraps |
| People with Jesus one day | People with Jesus three days |
| Spring season | Summer season |
| Jews tried to make Jesus king | No popular response |
In Nehemiah 5 the text introduces three groups of complainers, each with the clause: "there were those who said" (vv. 2, 3, 4-5).  The first group did not have enough food to feed their families.  The second group did not have enough money to buy food.  The third group was deeply in debt and was enslaved to their creditors.  The people were grumbling about each other, as well as about their poverty and high taxes.
The Jews were guilty of two sins against their brethren: (1) usury (charging them excessive interest on their loans; cf. Exod. 22:25), and (2) slavery (enslaving their brethren; cf. Lev. 25:35-38).  The Mosaic Law forbade Israelites from charging interest when they made loans to fellow Jews.
Evidently Nehemiah and some of his fellow Jews had paid money to certain Gentiles in Babylonia who owned Jewish slaves in order to liberate those Israelites so they could return to Judah (v. 8).  How inconsistent (and infuriating) it was, then, for the Jews in Jerusalem to enslave them again.
Swindoll notes these leadership principles:
"First, determine to stop the wrong . . . (v. 10).  Second, make specific plans to correct the wrong immediately, regardless of the sacrifice involved . . . (v. 11).  Third, declare your plans for correction in a promise before God . . . (v. 12b).  Fourth, realize the seriousness of the vertical promise . . . (v. 13a)."
Rick Warren has these leadership lessons:
In Nehemiah 5, the Israelites faced conflict for one of the same reasons we do today: selfishness.  So, what can we learn from Nehemiah about handling conflict?
1. Take the problem seriously. (v. 6)
Nehemiah didn't ignore the problem; he took it seriously.  When the unity of your church gets challenged, it's your job to protect that unity. It's serious business.
In times like this, a certain level of anger is completely appropriate and right.  Leadership means knowing the difference between the right kind of anger and the wrong kind of anger.
2. Think before you speak. (v. 7)
If you only do step one and ignore step two, you'll get in lots of trouble.  Nehemiah 5:7 says, "I pondered them in my mind" (NIV).  Nehemiah stopped, got alone with God, and thought about what he was going to do.  He asked God, "What do you want me to do?"
You should get angry when disunity threatens your church, but you have to think before you act. Y ou can't just act on that anger. J ames 1:19-20 says, "Everyone should be quick to listen, slow to speak and slow to become angry, because human anger does not produce the righteousness that God desires" (NIV).
I've seen a lot of leaders who were highly effective for the Lord blow their ministry in an impulsive moment.  Don't let that happen to you.  Get angry, but then take some time to think and pray about what to do next.
3. Rebuke the person individually. (v. 7)
Go directly to the source.  You don't deal with somebody else about it. You don't talk with five or six different people to get everybody on your side.  You don't say, "I've got a prayer request . . ." and then spout it out.
Instead, you go directly to the person causing the disunity.  Nehemiah did that: "I pondered them in my mind and then accused the nobles and officials. I told them 'You are exacting usury from your own countrymen!'" (Nehemiah 5:7 NIV).
Nehemiah wasn't making a polite social visit.  He was angry, and he didn't gloss over the fact that these guys were ripping off other people.  He wasn't watering it down.  He was confronting the troublemakers.  You and I are called to do that, too, when disunity threatens our churches.
Titus 3:10-11 says, "Warn a divisive person once, and then warn him a second time. After that, have nothing to do with him. You may be sure that such a man is warped and sinful; he is self‑condemned" (NIV).
Warning troublemakers is an important task of ministry.
4. Publicly deal with public divisions. (v. 7)
In Nehemiah's situation, everyone knew that the rich people were ripping off the poor.  He had to deal with it publicly. Nehemiah 5:7 says when going privately to the rich officials didn't work, he called together a large meeting to deal with them.  It must have been a tough conversation because it was probably the rich officials paying most of the expenses to rebuild the wall.  It took guts to confront them publicly.
You, too, have to deal with problems to the degree that they are known.  If the problem has spread to the whole church, then you have to deal with the problem publicly.
5. Set an example of unselfishness. (v. 10)
Nehemiah led the way in unselfishness.  It was the foundation of his leadership.  When he asked them to rebuild the wall, he was out on the wall rebuilding it.  When he asked them to pray, he had already been praying.  When he asked them to work night and day to get it built, he did the same.  When he asked them to help the poor, we find out in verse 10 he'd already been doing it.
Nehemiah never asked anyone to do what he wasn't already doing or wasn't willing to do.  Leaders only ask others to do what they are already doing or are willing to do.  If you cannot challenge someone to follow your example, whatever you say to them is going to lose its impact.  Churches have fewer conflicts when their leaders live unselfishly and model that to the congregation.
You're going to have disagreements in your church.  There's no perfect church.  But God wants us to minimize disunity in our churches for his glory.  The testimony of a church should not be the beautiful buildings, great sermons, or lovely music, but how the people love one another.
Acts 15 is the Council of Jerusalem, convened because of Judaizers who demanded that Gentiles be circumcised.  To them it was a salvation issue (15:1).  Peter recounts his experience with Cornelius, how God had given Cornelius the Holy Spirit "just as he did to us" (15:8) "and he made no distinction between us and them, having cleansed their hearts by faith" (15:9).
Peter plainly declared
"But we believe that we will be saved through the grace of the Lord Jesus, just as they will." (Acts 15:11)
That is why Paul had to rebuke Peter when, although he was eating with Gentiles prior to the visit of a delegation from Jerusalem, he separated from them as if they were unclean.  Thus Paul rebuked him to his face, that his conduct was "not in step with the truth of the gospel" (Galatians 2:14).  Then Paul very plainly and forcefully says…
15 We ourselves are Jews by birth and not Gentile sinners; 16 yet we know that a person is not justified by works of the law but through faith in Jesus Christ, so we also have believed in Christ Jesus, in order to be justified by faith in Christ and not by works of the law, because by works of the law no one will be justified.
Christ did everything needed.  He lived a perfect life and died in our place.  On the cross He said, "Paid in full" and every sin was forgiven so that there is "no condemnation for those who are in Christ Jesus" (Romans 8:1).
Fortunately Peter, Paul and Barnabas, and James carried the day and Gentiles were not required to be circumcised.
Whether Paul and Barnabas' disagreement caused deep divisions between them (which I doubt), the end results was two mission teams instead of one.
This time the missionaries traveled first by land, north through Syria, then through Cilicia where Paul had been born and had previously labored.  They strengthened the young churches in those Roman provinces.